July 30, 2011 -
Barry Dorey
Plaxico set to meet with the 49ers
The 49ers have finished 18th or worse in passing offense in each of the past two seasons and while a good deal of that can be blamed on the quarterback position, it's not exactly like the wide receivers on the roster have been playing out of their minds.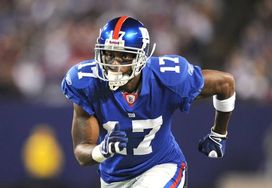 ICONAfter taking a meeting in Pittsburgh, Burress heads to San Fran to meet with the Niners.
Throw in a foot injury to former first-round pick Michael Crabtree and suddenly this offense is in desperate need of some firepower.
So you can see why new head coach Jim Harbaugh is interested in kicking the tires on free agent wide receiver Plaxico Burress, per Steve Serby of the New York Post.
According to Serby, Burress will meet with the Niners sometime Saturday after having sat down with the Pittsburgh Steelers earlier in the day.
There are also reports swirling that the Jets are interested in a meeting, but Manish Mehta of the New York Daily News says that if Burress signs in New York, it will be with Big Blue and not Gang Green.
Hit me up on Twitter: @JoeFortenbaugh