March 12, 2013 -
Joe Fortenbaugh
Prank call gets Buffalo GM to reveal his frustrations with Ryan Fitzpatrick
One day before the start of the NFL's free agency period, two 20-year-old pranksters managed to get Buffalo Bills general manager Buddy Nix on the phone with Tampa Bay Buccaneers general manager Mark Dominik…all while they listened in and recorded the conversation.
According to Barry Petchesky at Deadspin, the two pranksters called the Buffalo front office last Thursday claiming to be Dominik and asked to speak with Nix. Shockingly, they were put through to the Bills general manager, but hung up as soon as Nix answered.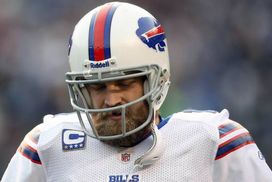 Bills general manager Buddy Nix clearly isn't enamored with quarterback Ryan Fitzpatrick.
Here's where the story gets interesting: Under the impression he had been cut-off from Dominik, Nix kept calling the pranksters back, who ignored the calls until they figured out the next phase of their gambit: They would ring Dominik in Tampa claiming to be Nix, connect the two general managers via a conference call and then listen in and record the conversation.
You can listen to the recordings at Deadspin by clicking here.
The six-minute conversation has plenty of humorous moments, beginning with Nix telling Dominik that he had been trying to call him back for days.
After discussing everything from the new three-day tampering window to the upcoming draft, Nix opens up about quarterback Ryan Fitzpatrick, who signed a six-year, $59 million contract extension with the Bills in October of 2011.
"We're struggling here with our quarterback…We're not really struggling—he's going to have to do something, or we'll have to."
And later on in the conversation regarding Fitzpatrick: "We just can't afford to pay that kind of money for a guy who's fighting for probably a backup job."
It's pure gold. And it never should have happened. But it did, and now the cat's out of the bag. Perhaps instead of working to make some upgrades to the roster on Tuesday afternoon, the Buffalo front office can figure out a way upgrade their protocols for the people who are given access to their general manager.
Hit me up on Twitter: @JoeFortenbaugh