June 09, 2011 -
Joe Fortenbaugh
Preseason fantasy rankings
Don't fall into the trap.
The NFL lockout has done an excellent job of lulling even the most hardcore football fans to sleep. Enthusiasm is at an all time low while panic is at a record high. If fan interest in the NFL since the conclusion of the draft could be measured, I'm sure it would fall somewhere between mowing the grass and going to the dentist.
Which is exactly why now is the time to gain a leg up on the fantasy competition.
While the rest of your league's owners are watching the Cubs lose every night, you should be dedicating a small piece of your time to draft prep. The free agency period still needs to go down, but keep in mind that it's always better to be proactive than reactive.
Today we're going to stick our toes in the water by checking out the preseason top-ten quarterbacks, running backs and wide receivers. To further the discussion, I'll be opening up a thread in the NFP Forums in the near future dedicated to all things fantasy.
And just as a little teaser, the NFP has some BIG things in store for the 2011 fantasy season including some awesome fantasy draft packages you can win here on the site.
More to come in the near future. Stay tuned.
2011 PRESEASON FANTASY RANKINGS
QUARTERBACKS
1. Aaron Rodgers, Green Bay Packers: Finished both 2009 and 2010 as the fantasy world's highest scoring quarterback. With a loaded arsenal and average (at best) running game, we don't see anything changing this season.
2. Peyton Manning, Indianapolis Colts: Argue all you want, but he's thrown for 4,000+ yards in 11 of the last 12 seasons while tossing 30+ touchdowns in four of the last five years. Nobody is more consistent and reliable.
3. Michael Vick, Philadelphia Eagles: He's got more upside than any other quarterback in the NFL, but red flags surround Vick due to durability concerns. In addition, opposing defenses figured him out down the stretch, forcing eight turnovers over his final five games.
4. Drew Brees, New Orleans Saints: Give this guy some ground support and he just may take you all the way to a league championship. With a top-ten rushing attack in 2009, Brees finished second in fantasy scoring among quarterbacks. With the 28th ranked ground game last season, Brees finished sixth. Hello, Mark Ingram.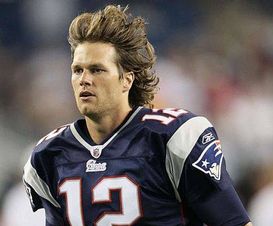 If fantasy rankings were based on hair, Brady would come in third behind Jared Allen's mullet and Randy Moss' afro.
5. Tom Brady, New England Patriots: Doesn't throw interceptions, married to a supermodel, rich as hell, long, flowing hair. Why the hell don't I have him ranked first?
6. Philip Rivers, San Diego Chargers: Even the Vincent Jackson drama and injury bug that ravished his receiving unit wasn't enough to stop Rivers from leading the NFL in passing (4,710 yards) last season.
7. Matt Schaub, Houston Texans: Only Peyton Manning (9,200) has thrown for more yards over the past two years than Schaub (9,140). A healthy Owen Daniels and top-flight running game should lead the Houston signal-caller to his third consecutive 4,000-yard season.
8. Tony Romo, Dallas Cowboys: If Jon Kitna was a must-start fantasy quarterback with this offense, what does that make Romo? The fans in Big D are getting tired of waiting for this guy to deliver.
9. Matt Ryan, Atlanta Falcons: He finished ninth in fantasy scoring last season and now has Julio Jones at his disposal along with Pro Bowler Roddy White. 12 indoor games in 2011 won't hurt.
10. Eli Manning, New York Giants: Eli is coming off his second consecutive 4,000-yard season and his first campaign with 30 or more touchdown passes. Hakeem Nicks is becoming a scary No. 1, but keep an eye on Steve Smith, who could be a free agent under the new CBA (if we ever get one).
RUNNING BACKS
1. Adrian Peterson, Minnesota Vikings: He's finished third or higher in fantasy scoring among running backs in each of the last three seasons. Rare combination of speed and power. Offense will run through A.P. while rookie quarterback Christian Ponder gets acclimated with the system.
2. Arian Foster, Houston Texans: 2010 was a breakout year for Foster as he led the NFL in rushing (1,616 yards) and recorded an impressive 66 receptions for 604 yards. Lots of upside, but watch out for second-year RB Ben Tate, who missed his entire rookie season due to injury.
3. Jamaal Charles, Kansas City Chiefs: Talk about explosive. Charles finished 2010 ranked third in fantasy scoring among running backs despite ranking 14th in rushing attempts (230). He's a dual threat weapon that can hurt you from anywhere on the field. Be advised that offensive coordinator Charlie Weis is no longer with the team.
4. Chris Johnson, Tennessee Titans: Anyone who has been following me since the NFP launched back in 2008 knows I've been on the Chris Johnson train from the beginning. Unfortunately, this guy can't do it all. The Titans are devoid of offensive firepower and could start rookie Jake Locker at quarterback. Don't be surprised if opposing defenses stack eight in the box.
5. Ray Rice, Baltimore Ravens: Rice rushed for 119 less yards in 2010 then he did in 2009 despite 53 more carries. However, the big problem is goal line vulcher Willis McGahee. Rice gets the touches, but he's only scored 14 touchdowns over the last two years.
6. Maurice Jones-Drew, Jacksonville Jaguars: What we said for Rice goes double for MJD, who has to contend with Rashad Jennings stealing his red zone touches. After scoring 16 total touchdowns in 2009, Jones-Drew found the end zone just seven times last season.
7. LeSean McCoy, Philadelphia Eagles: The Eagles rarely run the ball, but when you combine McCoy's carries (207) with his receptions (78) you get enough touches to bring home a top-seven fantasy finish. There are so many weapons on the Philly offense (Vick, Jackson, Maclin) that opposing defenses can only pay McCoy so much attention.
8. Darren McFadden, Oakland Raiders: It took a few years, but McFadden finally began to look like a top-ten draft pick last season. You want upside? This guy finished 2010 ranked sixth in scoring among fantasy running backs despite playing in just 13 games. The sky is the limit.
9. Michael Turner, Atlanta Falcons: He won't give you anything in the passing game, but only Adrian Peterson (40) has scoring more rushing touchdowns over the last three years than Turner (39). With Julio Jones now in the mix, defenses won't be able to stack eight in the box.
10. Matt Forte, Chicago Bears: I'm sure there will be plenty of complaining with this pick, but keep in mind that Forte has caught 50 or more passes in each of his three professional seasons and averaged a career-high 4.5 yards per carry last year with Mike Martz calling the offense.
WIDE RECEIVERS
1. Roddy White, Atlanta Falcons: Finished 2010 ranked third in fantasy scoring among wideouts a fter setting career highs in receptions (115, first in NFL) and receiving yards (1,389). Addition of rookie Julio Jones will help prevent opposing defenses from rolling coverage in his direction. 12 games in a dome won't hurt, either.
2. Andre Johnson, Houston Texans: Has caught 100 or more passes in three of the past five years while topping 1,200 receiving yards each season since 2008. As consistent and reliable as they come.
3. Calvin Johnson, Detroit Lions: Despite being backed by a below-average supporting cast for his entire career, Johnson is coming off his second top-five fantasy finish of the last three years. The upside is that the Lions are finally starting to put together a respectable offense, meaning Megatron might not be double-teamed all season.
4. Reggie Wayne, Indianapolis Colts: Think this guy is getting old and slowing down? Then please explain to me how he set career highs in receptions (111) and receiving yards (1,355) last season. NOBODY is more consistent.
5. Hakeem Nicks, New York Giants: He's Eli Manning's favorite red zone target, so you know Nicks will have plenty of opportunities to rack up the touchdowns. Finished seventh in scoring among fantasy wideouts despite appearing in only 13 games. There's some big upside here.
6. Greg Jennings, Green Bay Packers: Bounced back from a four-touchdown 2009 campaign to find the end zone 12 times on 76 receptions. He's the No. 1 target on one of the league's most lethal offenses. Keep in mind the Packers will have targets on their backs this season.
7. Mike Wallace, Pittsburgh Steelers: The most dangerous deep threat in the game today, Wallace led the NFL in receptions of 40+ yards (10) and 20+ yards (26) last season. The 24-year-old also found the end zone one time for every six receptions he made.
8. Vincent Jackson, San Diego Chargers: A new CBA will no doubt have an effect on Jackson's ranking (free agency), but as of now, we love him as a Charger. Drop him down a bit in PPR rankings, but keep in mind that this guy can get down the field and win the jump ball battles as well as anybody in the league. Remember, quarterback Philip Rivers led the NFL in passing last season despite having Jackson for only five games.
9. Dwayne Bowe, Kansas City Chiefs: He's coming off a career year (72-1,162-15) that resulted in a second place fantasy finish, but we still have doubts about Bowe's work ethic and dedication. This lockout could wind up being very bad for Bowe's career if he's not staying in shape.
10. Larry Fitzgerald, Arizona Cardinals: We all know this guy is a stud, but until he gets a capable quarterback to run the offense, Fitz's talents will be wasted. Is Kevin Kolb the answer?
Disagree with the rankings? Let me know your thoughts in the comments section below.
Hit me up on Twitter: @JoeFortenbaugh