November 14, 2012 -
Joe Fortenbaugh
Pressure mounting?
So here's the big question facing Kansas State this week as the team prepares for their Big 12 showdown with Baylor: Will the pressure that comes with being the top-ranked team in the land get to Bill Snyder's Wildcats, or will it be business as usual for a 10-0 school that is beating their opponents by an average of 24.5 points per game this season?
It's one thing to be the No. 2-ranked team in the nation, fending off the likes of Oregon and Notre Dame on a week-to-week basis for a spot in the BCS title game.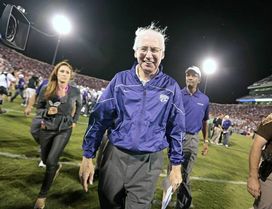 Bill Snyder's Wildcats have a lot to smile about. But the business at hand is far from finished.
It's quite another to be on top of the mountain.
Texas A&M's 29-24 upset win over Alabama last Saturday drastically altered the championship landscape, as the Wildcats now find themselves at the top of the BCS rankings for the first time in school history. Victories over Baylor and Texas to close out the season should be more than enough to put K-State on a plane headed for Miami for the right to be called the best team in college football.
But will the pressure get to the Wildcats?
Remember, Kansas State is 8-1-1 against the number this season and is riding a five-game ATS unbeaten streak into Saturday night's matchup at Baylor. The Wildcats are on the doorstep, but there are 120 minutes of football remaining before the team will have the opportunity to make history.
First up, Baylor, whom the Wildcats have beaten six of the last eight times these schools have gotten together. Kansas State is currently posted as an 11.5-point favorite. We'll get to that game in a minute, but first, let's check out some of the other enticing matchups on the Week 12 schedule…
Last week: 4-2
Season: 35-31 (.530)
CLICK HERE to check out all of the current lines.
Hawaii Warriors (1-8, 0-5 road) at Air Force Falcons (5-5, 4-1 home)
When: Friday, 9:30pm ET
Open: Air Force -22.5
Current: Air Force -22.5
Analysis: We're backing the Falcons in this one for two big reasons. First, Hawaii has been abysmal on the road this season, having been outscored 235-61 on the mainland while going 0-5 straight-up and 1-4 against the number. Not only that, but the Warriors are 1-11 ATS over their last 12 games following an ATS loss. Meanwhile, Air Force is looking to become bowl eligible with their sixth win, so the Falcons should have plenty of motivation to drop the hammer early against a warm weather team that will be forced to play in sub-40 degree weather.
Take note: Hawaii is 0-8 ATS over their last eight games following a straight-up loss while Air Force is 12-5 ATS over their last 17 games after surrendering less than 275 total yards in the previous game.
Pick: Air Force (-22.5)
#18 USC Trojans (7-3, 3-2 road) at #17 UCLA Bruins (8-2, 4-1 home)
When: Saturday, 3:05pm ET
Open: USC -3.5
Current: USC -4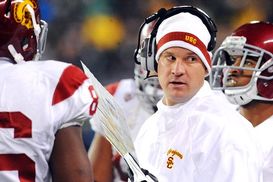 Lane Kiffin better watch out. A loss to UCLA could prove disastrous when it comes to recruiting in Southern California.
Analysis: What better way to cap off a phenomenal season under first-year head coach Jim Mora than with a win over hated cross-town rival USC? The Trojans are vulnerable and you have to keep in mind that this game is about more than L.A. bragging rights. With UCLA on the rise and USC stumbling through their 2012 season, the fertile recruiting fields of Southern California may no longer by controlled by the Men of Troy, should they come up short against the Bruins. This is UCLA's Super Bowl, while the Trojans still have to worry about next week's nationally televised showdown with the undefeated, third-ranked Fighting Irish. There's blood in the water and you can bet the Bruins smell it.
Take note: The home team is 7-2 ATS over the last nine meetings between these two schools. In addition, USC is 0-5 ATS over their last five road games while UCLA is 12-3 ATS over their last 15 home games against teams with a winning road record.
Pick: UCLA (+4)
Colorado State Rams (3-7, 1-4 road) at Boise State Broncos (8-2, 4-1 home)
When: Saturday, 3:30pm ET
Open: Boise State -28.5
Current: Boise State -28
Analysis: This is the final home game of the year for the Broncos, who are coming off a 49-14 vacation at Hawaii and are set to go on another two-week break before wrapping up the regular season at Nevada. As for the Rams, Colorado State took down UNLV last weekend for just their third victory in 2012, which means we have to take into account the fact that this team is 1-5 ATS over their last six games following an ATS win and 0-5 ATS over their last five games following a straight-up win. Boise rolls, but we'd be a bit more comfortable if this line came down to -27.5.
Take note: Colorado State is 17-38 ATS over their last 55 road games, while Boise State is 35-17-2 ATS over their last 54 games played in the month of November.
Pick: Boise State (-28)
Iowa State Cyclones (5-5, 2-2 road) at Kansas Jayhawks (1-9, 1-4 home)
When: Saturday, 7:00pm ET
Open: Iowa State -6.5
Current: Iowa State -6
Analysis: There's no way to say this nicely, so I'm just going to say it: Kansas stinks. But for as bad as Charlie Weis' Jayhawks have been this season, the team has still found a way to hang tight in a number of tough matchups. Kansas lost by seven in overtime to #22 Texas Tech last week, by four to #23 Texas and by six to Oklahoma State. In addition, keep in mind that Kansas is 5-2 ATS over their last seven home games while Iowa State 0-4 ATS over their last four games against teams with a losing record.
Take note: Iowa State is 2-5 ATS over their last seven games against Kansas.
Pick: Kansas (+6)
#1 Kansas State Wildcats (10-0, 4-0 road) at Baylor Bears (4-5, 3-1 home)
When: Saturday, 8:00pm ET
Open: Kansas State -11
Current: Kansas State -11.5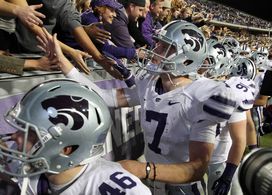 US PRESSWIRECollin Klein and the Wildcats have been an ATS juggernaut this season.
Analysis: Eliminate 1-9 Kansas from the list, and the Wildcats and Bears have four common opponents: Oklahoma, Iowa State, West Virginia and TCU. In those four games, Kansas State went 4-0, winning by an average of 16.2 points per game. In those same four matchups, Baylor went 0-4, losing by an average of 14.2 points per game. Bill Snyder's Wildcats are 17-4-1 ATS over their last 22 games overall and 5-0 ATS in their last five games played in the month of November. Meanwhile, Baylor is 19-40 ATS over their last 59 games following an ATS win.
Take note: Kansas State is 6-2 ATS over their last eight games against Baylor.
Pick: Kansas State (-11.5)
Hit me up on Twitter: @JoeFortenbaugh