February 01, 2011 -
Joe Fortenbaugh
Prop bet of the day
DALLAS—Welcome to the second installment of our brand-new "Prop Bet of the day" series.
Today's prop bet comes to us from Oddsmaker.com. Be sure to leave your prediction in the comments section below.
Prop bet of the day: Tuesday, February 1, 2011
Color of liquid used to douse winning coach?
YELLOW: +300
BLUE: +500
PURPLE: +500
RED: +300
CLEAR: +200
ANY SHADE OF GREEN: +200
FIELD: +500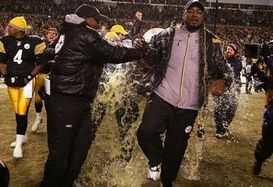 Tomlin gets drenched with the Yellow.
We've actually got some evidence to work with on this one. Steelers head coach Mike Tomlin was drenched with Lemon-Lime Gatorade after Pittsburgh defeated Arizona in the Super Bowl two years ago. So if you believe in superstitions and think the Steelers are going to win, YELLOW (+300) is probably the play for you.
Per Pregame.com, orange-flavored Gatorade is the drink of choice for the Green Bay Packers. How they came across this explosive information is beyond me, but if it's right (and we have no reason to believe that it isn't) that's some intel that could put a few bucks in your pocket.
So what's it going to be? I'm taking Lemon-Lime (Yellow), mainly because I lived off of that stuff during college.
CLICK HERE to check out Monday's Prop Bet of the day.
Hit me up on Twitter: @JoeFortenbaugh