June 04, 2012 -
Joe Fortenbaugh
Prove it
What have you done for me lately?
That oft-uttered question surfaces every offseason as NFL players go to battle with their respective front offices in the hopes of landing a much-desired pay raise. And in a league where players are viewed like stocks on Wall Street, often is the case where one's value is tied directly to his last down on the gridiron.
Titans running back Chris Johnson wants us to ignore this fact. Speaking to reporter Jim Wyatt of The Tennessean, Johnson expressed his belief that he is the best running back in the National Football League and said we should look at the totality of his work as opposed to evaluating him based on his 2011 performance alone.
"I feel I am still the best back in the league and I have no problem saying that," Johnson told Wyatt. "None of the active backs have done anything that I have done in the first four years, even though I had a bad year last year. So I still feel like I am the best back in the league."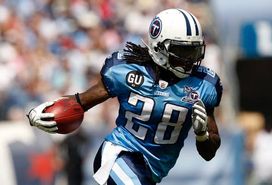 If Chris Johnson wants to regain his spot at the top, he'll need to produce in a big way this season.
The East Carolina product has a point. Since entering the league in 2008, Johnson ranks first in rushing yards (5,645), carries of 10+ yards (148) and scrimmage yards (7,071), all of which helped the 26-year-old garner three trips to the Pro Bowl. Those gaudy numbers also forced the Tennessee brass to cave to CJ2K's demands for a new contract last offseason, which resulted in a four-year extension worth $53.5 million.
But here's the problem: With the exception of evaluating whether or not a player deserves a spot in the Hall of Fame, we aren't a society that is willing to bestow the crown upon the head of a guy who just spent an entire year producing average results.
Prior to his win at the Memorial on Sunday, how many of you would have said that Tiger Woods was the best golfer in the world? I'm betting not many. But one big comeback later and Woods' odds to win the 2012 U.S. Open have already dropped from 12/1 to 6/1. Perception is often reality, and after Sunday's win, we once again perceive Woods as one of the best in the business.
After producing career lows in rushing yards (1,047), yards per carry average (4.0) and touchdowns (4) in 2011 all while 13 other NFL running backs amassed more yardage on the ground, many no longer consider Chris Johnson to be the best running back in the NFL. His confidence is commendable and his offseason preparation (Wyatt reports that Johnson has been a regular participant at team workouts) is sure to bring a smile to the Tennessee faithful, but to be the best, you have to beat the best.
And if Johnson wants to the world to consider him the best running back in the business, he has to do more than point to his numbers from 2008-2010.
He has to go out this fall and prove it.
Hit me up on Twitter: @JoeFortenbaugh