August 09, 2011 -
Barry Dorey
Pryor plans Pro Day in prep for August 17 supplemental draft
The good news for former Ohio State quarterback Terrelle Pryor is that the NFL will hold a supplemental draft on August 17, per Chris Mortensen of ESPN.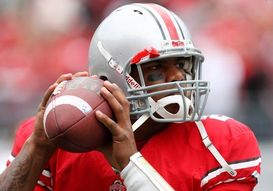 IconWill Terrelle Pryor be given an opportunity to turn pro this summer?
The bad news—at the moment—is that it still isn't known whether or not Pryor will be declared eligible to participate.
But that hasn't stopped the former Buckeye from scheduling a Pro Day workout for this Friday, according to Len Pasquarelli of The Sports Xchange. Per Pasquarelli, Pryor will workout for scouts at an undisclosed location in Pittsburgh.
In addition to Pryor, former Georgia running back Caleb King has also applied to participate in the supplemental draft. King rushed for 455 yards and two touchdowns last season for the Bulldogs, but failed out of school and is now looking to turn pro.
Should Pryor be declared ineligible, you'd have to wonder what his next step would be. The 2011 Canadian Football League season is already well underway, eliminating yet another option for the troubled quarterback.
Hit me up on Twitter: @JoeFortenbaugh