August 05, 2011 -
Barry Dorey
Raiders fill the void at tight end
Three days after watching their starting tight end and leading receiver sign with the Seattle Seahawks, the Oakland Raiders have found a replacement.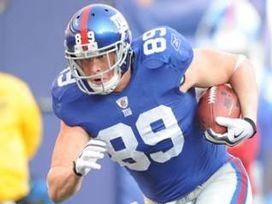 The Raiders hope Boss can step in and produce like former tight end Zach Miller.
Adam Schefter of ESPN is reporting that the Raiders have reached an agreement with free agent tight end Kevin Boss on a four-year deal worth $16 million.
Boss brings an extra inch in height and a Super Bowl ring to the Raiders, but he's a slight step back from what former tight end Zach Miller brought to the table in the pass-catching department.
Miller—who led the Raiders in receiving in each of the past three years—signed a five-year deal worth $34 million with the Seahawks on Tuesday, leaving a gaping hole in the Oakland offense.</p>
In Oakland, Boss will step right into the starting lineup and should quickly become one of quarterback Jason Campbell's top targets.
Hit me up on Twitter: @JoeFortenbaugh