October 08, 2012 -
Joe Fortenbaugh
Ramblings & nonsense from the fantasy football world
THE LEAD
Despite the choreographed end zone celebration and downright freakish athletic ability, Panthers quarterback Cam Newton is not Superman. If the NFL does have a player who most closely resembles Clark Kent's alter ego, he resides in Atlanta and goes by the name of Tony Gonzalez.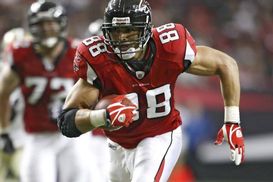 Gonzo is putting up some big-time numbers in his 16th NFL season.
Whether you've noticed or not, Gonzalez currently leads all NFL players in receptions (39) entering Monday night's showdown between the Texans and Jets. Now at 36-years of age, Sunday marked the 80th consecutive regular season start for a player who has missed just two games in 245 opportunities dating back to his rookie campaign in 1997.
Sunday's win over the Redskins (13-123-1) was simply the latest standout performance in a career overflowing with exceptional efforts. New England's Rob Gronkowski and New Orleans' Jimmy Graham are the new breed of tight end that's becoming all the rage in the NFL, but it's Tony G who is once again demonstrating that Father Time has about as good a chance of slowing him down as an opposing safety.
THE BIG THREE
The comeback: A rookie quarterback, a head coach battling leukemia and an opponent considered by many to be one of the best teams in the NFL. Sorry, but none of that was enough to stop Andrew Luck and the Indianapolis Colts from pulling off a thrilling 30-27 comeback win over the Packers on Sunday that saw Indy close out the show on a 27-6 run. For the season, the former Stanford standout is completing just 54.2% of his passes, but Luck has registered three 300+-yard efforts in four games and has guided his team to a 2-2 record that could very easily be 3-1, if the defense doesn't give up an 80-yard touchdown to the Jaguars in the fourth quarter two weeks ago. And let's make sure we all recognize this matchup for what it was: Indy came back and won that game. No more of this nonsense about how the Packers "blew it." They put sixty minutes on the clock for a reason.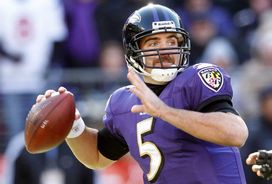 A big defensive effort bailed out Joe Flacco and the Baltimore offense on Sunday.
Bad Joe Flacco: I really don't get this guy. One week he's lighting up New England in a nationally televised revenge game, and then two weeks later he's at Kansas City completing 48.1% of his passes in a 9-6 win that Baltimore should feel elated to have come away with. Prior to Flacco's arrival on Sunday, opposing quarterbacks had posted a QB rating of 114.7 with 10 touchdowns, 2 interceptions and a completion percentage of 65.1% in four games against the Chiefs. Flacco has a lot of potential, but these are the performances that prevent teams from winning Super Bowls. The Ravens got away with it against the now 1-4 Chiefs, but that type of effort won't work against Houston, New England or Pittsburgh come playoff time.
Brady vs. Manning: Sunday could have been the last time that we'll see Peyton Manning and Tom Brady on the field against one another. The latest round in this epic rivalry went to Brady, who completed 74.2% of his passes for 223 yards while allowing his young stable of running backs to shoulder the load and pave the way for a win. On the flip side, Manning and the Broncos once again dug themselves an early hole that proved to deep to climb out of, as Denver fell behind 31-7 at one point during the third quarter. For those of you scoring at home, Sunday marked the third time in the last four weeks that the Broncos found themselves trailing by 20 or more points in the third quarter of a critical game that Denver ended up losing. Now at 2-3, next Monday night's divisional showdown at San Diego just got a whole lot bigger.
THE INJURY BUG
Here's a rundown of the key injuries that took place in Week 5:
Robert Griffin III, QB, Washington Redskins: Suffered a mild concussion on a nasty hit from Falcons linebacker Sean Weatherspoon in Sunday's loss to Atlanta. RG3 said he hopes to play next week against Minnesota, but this one will be up to the doctors.
Cedric Benson, RB, Green Bay Packers: Left Sunday's loss at Indianapolis on a cart after suffering a foot injury during the second quarter. Benson was seen in a walking boot after the game and his status for the coming weeks is unknown at the current moment. Expect backups James Starks and Alex Green to be popular waiver wire acquisitions this week.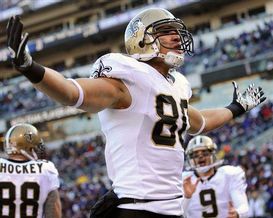 Graham owners will have to keep a close eye on the TEs ankle when he comes off the bye next week.
Jimmy Graham, TE, New Orleans Saints: Made one catch, rolled his ankle and was unable to produce anything else in the Saints' Sunday night win over San Diego. The upside here is that New Orleans hits the bye in Week 6, so you weren't going to be able to play Graham next weekend anyway.
Matt Cassel, QB, Kansas City Chiefs: Was knocked out of Sunday's loss to Baltimore with a concussion. Through five weeks, the Kansas City signal-caller has amassed a QB rating of just 66.2.
Jermichael Finley, TE, Green Bay Packers: Injured his shoulder in Sunday's loss at Indianapolis, but told reporters after the game that he'll be ready for Houston in Week 6. Yep, and I'm sure Houston will be ready for him, as well. Fantasy owners need to consider moving on from this guy, who hasn't totaled more than six fantasy points in a game since Week 1.
Bernard Scott, RB, Cincinnati Bengals: Was lost for the season due to a knee injury in Sunday's loss to Miami. For those of you who had him stashed in deeper leagues, you can go ahead and cut bait.
Andre Brown, RB, New York Giants: Suffered a concussion in Sunday's win over Cleveland and had to watch Ahmad Bradshaw rush for 200 yards while rookie David Wilson amassed another 44 yards and a score on just two carries. Brown's stock price doesn't look all that appealing moving forward.
Adrian Peterson, RB, Minnesota Vikings: Suffered an ankle injury in Sunday's win over Tennessee, but was able to stay on the field and play through it. This is an injury that will require close monitoring, as it could cause problems to A.P.'s production moving forward.
Martellus Bennett, TE, New York Giants: Hyperextended his knee in Sunday's win over Cleveland, but stayed on the field and gutted it out. Bennett's production has been down a bit over the last couple of weeks, so owners are advised to start looking for other options.
FROM THE BETTING WORLD
Despite a hot start to the week, underdogs faltered down the stretch on Sunday and finished the weekend with a 6-7 mark against the spread. Home dogs turned a small profit, with a 3-2 ATS record entering Monday night's matchup between the Houston Texans and New York Jets.
Through five weeks:
Home teams: 36-38-2 (48.6%)
Road teams: 38-36-2 (51.3%)
Favorites: 30-44-2 (40.5%)
Underdogs: 44-30-2 (59.4%)
Home favorites: 19-27-2 (41.3%)
Home dogs: 17-11 (60.7%)
Over s: 37-38-1 (49.3%)
Note: With Philadelphia's cover at Pittsburgh, the Detroit Lions (0-4 ATS) are the only team in the NFL that has yet to cover at least one spread so far this season. Meanwhile, the Houston Texans enter Monday night as the league's only team with a perfect ATS mark (4-0).
COMING UP IN THE WORLD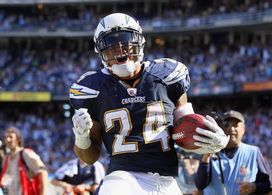 It's about time.
Ryan Mathews, RB, San Diego Chargers: The Bolts failed to escape New Orleans with a victory on Sunday night, but the silver lining is that it appears head coach Norv Turner has successfully lit a fire under running back Ryan Mathews' ass. Between the injuries and the fumbles, Mathews finally stepped up and delivered, amassing 139 total yards and a score in San Diego's 31-24 loss. Moving forward, Mathews should once again be on top of the depth chart, with Jackie Battle serving as the backup.
Ahmad Bradshaw, RB, New York Giants: Speaking of lighting a fire, Bradshaw has been on the ropes all season, first with rookie David Wilson and then with Andre Brown both coming after his job. And after fumbling the rock away on the team's first possession on Sunday, it looked like Bradshaw owners were headed for trouble. But fear not, because the guy went out and locked up his starting job with a 229-yard performance that also featured a touchdown.
HEADING SOUTH
Ryan Williams, RB, Arizona Cardinals: The second-year running back had been given a golden opportunity to grab the starting job in Arizona with Beanie Wells out of action due to injury. So how did Williams respond? By rushing for 59 yards and zero touchdowns on 27 carries over the last two weeks. When Wells gets healthy, this is going to head right back to a timeshare situation.
Note: