October 01, 2012 -
Joe Fortenbaugh
Ramblings & nonsense from the fantasy football world
THE LEAD
How much longer is the Mark Sanchez era going to last in New York? It's one thing to struggle as a rookie or second-year quarterback, but it's quite another to flop in year four. Sanchez supporters were quick to point to offensive coordinator Brian Schottenheimer as the source of the problem, so the Jets made a change and brought in former Miami boss Tony Sparano to call the plays this season. The result? Through four starts, Sanchez is completing an abysmal 49.2% of his passes with four interceptions for a QB rating of 69.6. Rookie quarterbacks Robert Griffin III, Andrew Luck and Russell Wilson—along with second-year signal-callers Andy Dalton, Jake Locker, Blaine Gabbert and Cam Newton—all rank ahead of Sanchez in the QB rating department at the moment.
In 51 career starts, Sanchez now boasts a completion percentage of 54.8%, a yards per attempt average of just 6.5 and has thrown 55 interceptions, all of which combine to give the USC product a passer rating of 72.9. How much longer is this going to last?
THE BIG THREE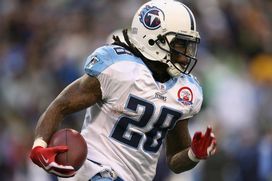 CJ finally gave owners something to smile about on Sunday.
Welcome back: The Titans may have gotten spanked 38-14 by the Houston Texans on Sunday, but the silver lining for fantasy owners was that first-round selection Chris Johnson finally posted a respectable stat line. Johnson's 141 rushing yards on a hefty 5.6 YPC average marked the first time since December 4th of last year that the East Carolina standout topped the century mark in a game. CJ still hasn't found the end zone, but Week 4 was the first time he posted a double-digit fantasy point total this season. Now the key is to convince some schmuck in your fantasy league that Johnson is back for good and worthy of a pricey trade.
Buy low!: Calvin Johnson's 423 receiving yards through four games is nothing to sneeze at, but his one total touchdown and below-average 54-yard performance on Sunday has owners who spent a first-round pick on the Pro Bowl receiver sweating bullets. I've been hammered with questions regarding the appropriate measures for how to handle Johnson and what I've learned is that current owners are looking to jump ship. Good. I have no problems buying the best receiver in the league at a discounted price. You shouldn't, either.
Andy Dalton: How good has the Red Rifle looked this season? Seemingly immune to the sophomore slump, Dalton is currently averaging 277.8 yards and two touchdowns per game this year with a completion percentage of 67.5%, all of which have the TCU product currently ranked seventh in fantasy scoring at the quarterback position. For those of you who locked in a solid QB1 on draft day and then grabbed Dalton as your backup, this guy makes for some tasty trade bait.
THE INJURY BUG
Here's the rundown on the key injuries to monitor as we approach Week 5:
Santonio Holmes, WR, New York Jets: Holmes crumpled to the turf during Sunday's game against the Niners after suffering a non-contact foot injury the ended his day. While no official word has surfaced on the wideout's status for the rest of the year, it doesn't look all that promising at the moment.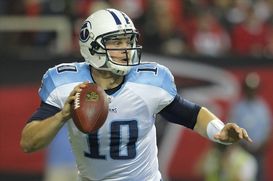 ICONLocker could be headed to the shelf for the next few weeks.
Jake Locker, QB, Tennessee Titans: The second-year quarterback exited Sunday's loss to Houston with a left shoulder injury after throwing just two passes. Take note that this is now the second time this season that Locker has injured his left shoulder. He's headed for an MRI today and could wind up on the shelf for a few weeks, leaving Matt Hasselbeck as the starter in Tennessee.
Greg Jennings, WR, Green Bay Packers: Aggravated a previously existing groin injury that kept him on the sidelines during the second half of Sunday's win over New Orleans. The upside is that Jennings was nice enough to haul in a touchdown pass before his day came to an end.
Scott Chandler, TE, Buffalo Bills: Caught four passes for 62 yards and two scores before leaving Sunday's loss to New England with what appeared to be a concussion.
FROM THE BETTING WORLD
That home underdog trend was nice while it lasted, wasn't it? After going a very profitable 13-6 against the spread during the first three weeks of the season, home dogs went just 1-3 ATS in Week 4. However, the underdogs as a whole thrived this past week with a 9-5 mark ATS.
Through four weeks:
Home teams: 28-32-2 ATS (46.7%)
Road teams: 32-28-2 ATS (53.3%)
Favorites: 23-37-2 ATS (38.3%)
Underdogs: 37-23-2 ATS (61.7%)
Home favorites: 14-23-3 ATS (37.8%)
Home dogs: 14-9 ATS (60.9%)
Overs: 30-31 ATS (49.2%)
Note: The Lions (0-4 ATS) and Eagles (0-3-1 ATS) are the only two teams who have yet to cover a spread this season, while the Houston Texans are the league's only perfect team against the number in 2012.
COMING UP IN THE WORLD
Brian Hartline, WR, Miami Dolphins: His 12 grabs for 253 yards and a score on Sunday in Arizona will make Hartline one of the most coveted waiver wire acquisitions of the week. The Ohio State product has now topped the century mark in two of his last three games and appears to be building a very solid rapport with rookie quarterback Ryan Tannehill. However, we feel that Hartline will be hit or miss throughout the rest of the season, so don't think your bringing in a WR1.
Roddy White, WR, Atlanta Falcons: Julio Jones was all the rage back in August, but it's the savvy veteran who is making a splash in the stats column this season. White produced a monster on Sunday against the Panthers, hauling in eight passes for 169 yards and two scores. The Pro Bowl wideout now sits at 27 receptions on 39 targets for 413 yards and three touchdowns on the season.
HEADING SOUTH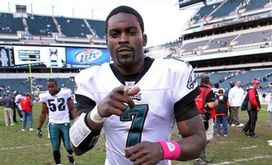 Vick's winning games, but his fantasy production has been down as of late.
Michael Vick, QB, Philadelphia Eagles: The Birds may be 3-1, but Vick has thrown just two touchdown passes over his last three starts and currently ranks 12th in fantasy scoring at the quarterback position. Those of you who drafted a capable QB2 with Vick's injury history in mind may want to consider making a switch.
Steve Smith, WR, Carolina Panthers: He's yet to find the end zone and has caught just ten passes over his last three games. What's more alarming is that Smith has only been targeted 14 times in his last three starts. Old age may be catching up.
RANDOM RAMBLINGS
1. It has nothing to do with football, but I've got to give a nod to the European Ryder Cup team for their epic come-from-behind win at Medinah on Sunday. I logged at least 30 hours of viewing time on the RC this past weekend and loved every minute of it. And although it will get lost in the shuffle, Zach Johnson, Jason Dufner, Dustin Johnson and Keegan Bradley were absolutely incredible for the Americans. As for United States captain Davis Love III, his decision to sit the stone cold team of Bradley and Phil Mickelson during Saturday afternoon's four-ball match so they could "rest" for Sunday came back to bite him in the ass, as both players went out and lost their respective singles matches anyway.
2. It's one of the easiest bets in football: Play ON the Seattle Seahawks when they're at home, play AGAINST the Seattle Seahawks when they're on the road.
3. Just when we may have thought that the Buffalo Bills could be on the rise, the team takes a 21-7 second-half lead against New England and flushes it down the toilet by allowing the Patriots to go on a 45-7 run to close out the game. Protect the football!
4. I can't figure out the Chargers. One week the team looks miserable, the next they're at Arrowhead Stadium rolling the Chiefs 37-20 in a game that was close right up until the opening kickoff. It's time to stick a fork in Matt Cassel, Kansas City. The guy is nothing more than a backup at this point.
5. The Arizona Cardinals are now 5-0 in overtime games dating back to last season.
6. After upsetting the Carolina Panthers in Week 1, the Tampa Bay Buccaneers have now dropped three straight contests to move to 1-3 on the season. The front office canned player-friendly coach Raheem Morris last year to make way for disciplinarian Greg Schiano and that change does not appear to be going over very well. Is it possible the Bucs could be looking for another head coach at the end of this season? What kind of record would that take?
7. How about some love for the Minnesota Vikings, who are sitting on top of the NFC North at 3-1 through four weeks?
8. I may go 17 weeks this season without watching one second of Rams football. Nice win over Seattle, but this team is about as boring as it gets. Well, unless you include Cleveland, who most likely couldn't beat Alabama at this point.
9. We're now 3-0 in Cantor Gaming's Cantor 7 fantasy football game. On your next trip to Vegas, hit me up and we'll draft a team together. This thing makes Sundays even more fun than usual, if that's actually possible.
MOST TARGETED PLAYERS
1. Dwayne Bowe, Kansas City Chiefs: 49
2. Victor Cruz, New York Giants: 49
3. Brian Hartline, Miami Dolphins: 48
4. Danny Amendola, St. Louis Rams: 44
5. A.J. Green, Cincinnati Bengals: 43
6. Calvin Johnson, Detroit Lions: 43
7. Santonio Holmes, New York Jets: 41
8. Larry Fitzgerald, Arizona Cardinals: 40
9. Jimmy Graham, New Orleans Saints: 40
10. Brandon Lloyd, New England Patriots: 40
*One other player tied at 40 (Reggie Wayne, Indianapolis Colts)
THE HEAVY WORKLOAD
1. Arian Foster, Houston Texans: 112 touches
2. Marshawn Lynch, Seattle Seahawks: 99 touches
3. LeSean McCoy, Philadelphia Eagles: 95 touches
4. Adrian Peterson, Minnesota Vikings: 89 touches
5. BenJarvus Green-Ellis, Cincinnati Bengals: 88 touches
6. Ray Rice, Baltimore Ravens: 86 touches
7. Maurice Jones-Drew, Jacksonville Jaguars: 85 touches
8. Jamaal Charles, Kansas City Chiefs: 84 touches
9. Alfred Morris, Washington Redskins: 83 touches
10. Doug Martin, Tampa Bay Buccaneers: 79 touches
*Two other players tied at 79 (Trent Richardson, Cleveland Browns and Stevan Ridley, New England Patriots)
MONDAY NIGHT PICK
We're currently sitting at 3-3 ATS on the Monday and Thursday night picks we've offered up so far this season. Not great, not awful, not profitable.
CHICAGO BEARS (+3.5) at Dallas Cowboys: I have no real feel for this game and to be honest, I don't trust either of these football teams right now. So I'll go ahead and take the dog and the points, thank you very much.
Hit me up on Twitter: @JoeFortenbaugh