September 24, 2012 -
Joe Fortenbaugh
Ramblings & nonsense from the fantasy football world
THE LEAD
Many will try, but it's not easy finding the right words to describe what Baltimore Ravens wide receiver Torrey Smith did on Sunday night. Less than 24 hours after learning that his younger brother Tevin Jones had passed away, Smith took the field for the Ravens in a highly-anticipated AFC Championship game rematch with the New England Patriots and produced one of the greatest performances of his young career. Dealing with heartache and sadness, Smith rallied to catch six passes for 127 yards and two scores in Baltimore's 31-30 comeback win over New England. And while many of us woke this morning to begin our typical Monday routines, Smith now has to deal with the sorrow and pain of burying his younger brother.
If nothing else, Torrey Smith's performance should serve as a reminder that while many of us are preoccupied with blaming the replacement officials for anything and everything that goes wrong, the game of football is still just that—a game. Our thoughts and prayers go out to Smith and his family during this most difficult of times.
THE BIG THREE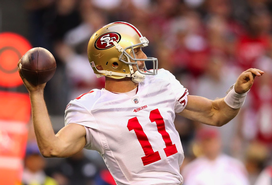 Alex Smith and the Niners got a wakeup call from the Vikings on Sunday.
Whoops!: Just when it looked like Jim Harbaugh and the 49ers were about to set up a permanent shop atop the hundreds of power rankings that make their way onto the internet each week, the Minnesota Vikings gave San Francisco a lesson in the old adage, "Any given Sunday." Armed with a clock-consuming game plan, solid defensive effort and one of the best performances of second-year quarterback Christian Ponder's career, the Vikings knocked the Niners from the ranks of the unbeaten with a shocking 24-13 victory that saw Minnesota leading the entire way.
The two lessons we learned from this game: 1) Christian Ponder can play some football. The former Florida State signal-caller has yet to throw an interception this season and currently boasts an impressive 104.9 QB rating through three games. 2) Forcing the 49ers to play from behind makes them human, as quarterback Alex Smith looked like a lost puppy during the second half.
See ya next season: The New Orleans Saints blew a 24-6 third quarter lead at home and went on to hand Kansas City their first win of the season in the form of a 27-24 overtime upset. After throwing three touchdown passes in the first 40 minutes, Drew Brees and company seemed content to let their leaky faucet of a defense close out the game. Big mistake. And while the Saints have already surrendered 102 points on the season, the real story here is the breakout performance of running back Jamaal Charles, who accounted for 288 total yards and a touchdown on an astounding 39 touches. Our advice to Charles owners would be to start shopping the running back immediately, as his stock price will never be higher in 2012. We have a feeling that the 510 yards Kansas City rolled up on Sunday was more attributable to that dreadful Saints defense than it was Matt Cassel and the Chiefs offense.
Stick a fork in him: In a fireworks display that featured 85 points and a grand total of 1,020 yards of offense, Titans running back Chris Johnson was once again MIA from the stat sheet. Johnson's 29 total yards accounted for just 15.06% of Tennessee's offensive output and to make matters worse, the former Pro Bowler was actually outrushed by quarterback Jake Locker. Johnson hasn't rushed for a touchdown since December 4th of last year and has now failed to top 65 rushing yards in seven straight games. He can blame the offensive line all he wants, but I don't see Matt Forte and Michael Bush complaining (or failing to produce) in Chicago behind a line that is probably worse. Johnson isn't worth dropping just yet, but you can't start this guy anymore.
THE INJURY BUG
Several marquee players exited Sunday's action earlier than expected. Here's what you need to know heading into Week 4:
Darrelle Revis, CB, New York Jets: Tore his ACL in Sunday's overtime win at Miami and is finished for the season. That's a big blow to a Jets defense that was already giving up 25.0 pts/gm with their star cornerback in the lineup.
Reggie Bush, RB, Miami Dolphins: Excited Sunday's game against the Jets with a knee injury, but his MRI on Monday came back showing no structural damage. Bush has been a beast this season (374 total yards, 2 TDs) and could be back in the lineup as early as Week 4.
C.J. Spiller, RB, Buffalo Bills: Amassed 58 total yards and one score in Sunday's win at Cleveland before leaving the game with a shoulder injury. Early reports indicate that Spiller is dealing with a sprain, but there appears to be a decent chance that he'll be nothing more than a spectator in Week 4. Look for Tashard Choice to handle the bulk of the carries if Spiller can't go, assuming Fred Jackson (knee) is still unable to return.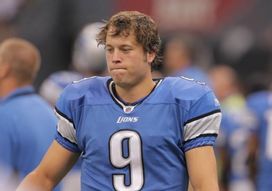 ICONIf Stafford can't go, backup Shaun Hill makes for a good waiver wire pickup.
Matthew Stafford, QB, Detroit Lions: Threw for 278 yards and a touchdown before exiting Sunday's loss at Tennessee during the fourth quarter with what was believed to be a glute/hamstring injury. Detroit hits the bye in Week 5 after playing the Vikings in Week 4, so the Lions could opt to go with Shaun Hill on Sunday in an effort to give Stafford more time to heal. We'll keep you posted.
Willis McGahee, RB, Denver Broncos: This is one of the reasons why many of you drafted Ronnie Hillman in the later rounds. McGahee suffered a rib injury in Denver's loss to Houston on Sunday and did not return after rushing for just 36 yards on 12 carries. There's currently no word on his status for Week 4, so this situation will require close monitoring over the next few days.
Darrius Heyward-Bey, WR, Oakland Raiders: Was down on the field for an extended period of time after being knocked unconscious in Oakland's last-second win over Pittsburgh on Sunday. DHB was diagnosed with a concussion and spent the night in the hospital, so don't expect to see him in the lineup come Week 4.
Beanie Wells, RB, Arizona Cardinals: Rushed for 18 yards on eight carries before exiting Sunday's win over Philadelphia with a toe injury. Wells' departure paved the way for second-year back Ryan Williams to amass 83 rushing yards on 13 carries (6.4 YPC), so Wells owners have to be concerned that he might be out of a job once the Ohio State product gets healthy.
Austin Collie, WR, Indianapolis Colts: Collie's first action of the season ended with a knee injury that could knock him out for the rest of the year. He's scheduled to undergo an MRI on Monday after catching just one pass for six yards in the Colts' loss to Jacksonville. Keep an eye on T.Y. Hilton, who hauled in four passes for 113 yards and a score in Week 3. But remember, the WR situation in Indy has been very difficult to predict this season and we see it staying that way for a while.
Jared Cook, TE, Tennessee Titans: Unlike Chris Johnson, Cook took full advantage of the shootout he found himself in on Sunday. The tight end caught four passes for 77 yards and a touchdown in the Titans' Week 3 win over Detroit, but will undergo an MRI Monday to determine the extent of the shoulder injury he suffered.
Jacob Tamme, TE, Denver Broncos: Caught three passes for 31 yards in Sunday's loss to the Houston Texans before injuring his groin during the fourth quarter. If Tamme winds up on the shelf for an extended period of time, keep an eye on Joel Dreessen, who caught two passes for 36 yards and a score in Week 3.
THE YEAR OF THE DOG?
Some notes on how things are shaking down in Vegas through three weeks…
1. Underdogs went an amazing 12-3 against the spread in Week 3, with Seattle (+3.5) still left to play on Monday night. On the season, underdogs are now hitting at a 28-18-1 clip (60.87%).
2. Home dogs are now 12-6 ATS (60.87%) this season.
3. Home teams are 24-22-1 (52.17%) through three weeks.
COMING UP IN THE WORLD
Mikel Leshoure, RB, Detroit Lions: In his first career game, Leshoure stepped up admirably and handled the workload for the Lions, rushing for 100 yards and a score on 26 carries. That's the kind of performance that solidifies the starting job and the bulk of the carries. Those of you who drafted and waited patiently for Leshoure to get onto the field should be rewarded handsomely.
Matt Schaub, QB, Houston Texans: See what happens when the Texans decide to turn on the engines? After playing possum the first two weeks of the season, Houston opened up the offense on Sunday at Denver as Schaub threw for 290 yards and four scores in a 31-25 win over the Broncos. You won't get this type of production every week, but Schaub is definitely a QB2 who can make a big impact in the right situation.
HEADING SOUTH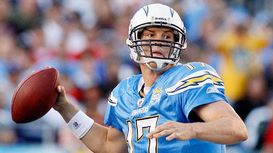 Rivers and the Chargers are no longer lighting up the skies.
Philip Rivers, QB, San Diego Chargers: He's thrown for less than 250 yards in two of three starts this season and has amassed just four touchdown passes with three interceptions. Rivers looked awful on Sunday against the Falcons and it doesn't take a genius to realize that the loss of wide receiver Vincent Jackson is being felt in Southern California.
Dez Bryant, WR, Dallas Cowboys: Where's this guy at? Through three games, Bryant has yet to find the end zone and is averaging just 54.6 receiving yards per outing. After watching Eli Manning torch the Buccaneers secondary for over 500 yards in Week 2, we were expecting a big effort from Bryant. Not only did it fail to happen, but now we have to wonder if Bryant is worth starting on a week to week basis.
WAIVER WIRE PICKUPS FOR WEEK 4
We'll be posting a detailed list of the top waiver wire acquisitions for Week 4 Tuesday morning here at the NFP. Be sure to check back and, as always, I'm available on twitter if you have any questions: @JoeFortenbaugh.
RANDOM RAMBLINGS
1. Besides a dreadful defense, here's another reason why the Saints are 0-3 this season: They have a guy on the roster who is averaging 9.0 yards per touch, but has only been given the ball 25 times through three games. Wake up, New Orleans. Darren Sproles is the most dangerous weapon you have on that offense.
2. Don't be fooled by the 14 fantasy points that Michael Turner put up against the Chargers in Week 3. On 14 carries, Turner rushed for four of fewer yards nine times and rushed for one or fewer yards five times. With the exception of a 5-minute stretch in the fourth quarter where Turner racked up 57 yards and a score after the Chargers had quit on the game, he was a non-factor.
3. We said it earlier and we'll say it again: Christian Ponder is looking good. This guy is definitely worth a roster spot as a QB2. I'm starting him every week in a 16-team league that features two starting QBs. He's been money.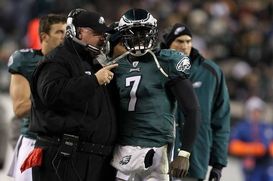 Is there a chance Andy Reid could pull the plug on Michael Vick?
4. Don't be shocked if the "We want Nick Foles" chants begin to get louder in Philadelphia. Michael Vick was dreadful in Sunday's loss at Arizona and has now turned the ball over nine times in three games. That won't get you to the Super Bowl.
5. The Cleveland Browns are awful. I don't think there's any way you can bring this front office and coaching staff back for another season. Browns fans will likely get pissed at me for saying that, but it's time to face the facts. This organization has now lost 14 of their last 16 games.
6. Cincinnati Bengals running back BenJarvus Green-Ellis is averaging just 3.6 yards per carry since leaving New England. I'm not sure this guy is the every-down back the Bengals were hoping to get when they signed him.
7. Big ups to the Raiders for gutting out that 34-31 win over the Pittsburgh Steelers Sunday afternoon. That was fun to watch.
8. With the exception of one lucky pass from quarterback Blaine Gabbert, the only reason the Jaguars won that game at Indianapolis yesterday was because Maurice Jones-Drew rolled up 193 total yards on 30 touches. MJD actually ran for more yardage (177 yards) than Gabbert threw for (155 yards), and that includes his 80-yard TD pass to Cecil Shorts to win the game. Jones-Drew was right to hold out, and the Jaguars are wrong for not giving this guy more money.
9. Congrats to Jay Cutler and Sam Bradford, who combined to go 35 for 66 for 335 yards (5.07 YPA) and zero touchdowns in a game that set the present-day NFL passing attack back 45 years.