September 08, 2014 -
Joe Fortenbaugh
Ray Rice and the political scramble
In the end it took the release of a second horrifyingly heinous video and a tidal wave of public outrage for the Baltimore Ravens and the National Football League to produce a punishment of substance when it came to Ray Rice.
Don't applaud, because there isn't a single individual who deserves any credit for what that took place on Monday.
Rice, a six-year veteran and three-time Pro Bowler, had his contract terminated by the Baltimore Ravens on Monday just minutes before Commissioner Roger Goodell and the National Football League—like the Ravens—reversed its previous course and suspended the running back indefinitely.
Don't applaud the Ravens, who no doubt were looking forward to the boost Rice would have given the offense in two Sundays when he returned from his two-week joke of a suspension to play against the Cleveland Browns. Baltimore had virtually no problem with what took place in that Atlantic City elevator back on February 15, as evidenced by head coach John Harbaugh's comments in the wake Rice's disgusting left hook annihilation of current wife Janay Palmer.
"It's not a big deal, it's just part of the process," Harbaugh said, via ESPN. "There are consequences when you make a mistake like that. I stand behind Ray. He's a heck of a guy. He's done everything right since. He makes a mistake, alright? He's going to have to pay a consequence. I think that's good for kids to understand it works that way. That's how it works, that's how it should be."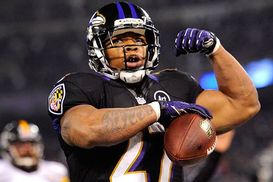 Rather than take a stance of domestic violence, the NFL went "by the book" until the public forced a change of course.
The kids understood the message, all right. If you're a professional athlete capable of aiding in the all-important task of producing wins in the standings, you'll be held to a different and much more lenient standard than the average human being.
Don't be fooled. The Ravens didn't terminate Rice's contract on Monday because they were appalled by the brutal beating he put on his wife in Atlantic City. There was plenty of time for that, but the franchise opted to support Rice rather than to punish him. The Ravens terminated Rice's contract on Monday because they botched this situation so shockingly and thoroughly from the beginning that the organization couldn't afford another minute of bad press.
This move was about the Ravens trying to look clean while being washed out in the middle of a mudslide rather than be viewed as compassionate and humane in the wake of an unconscionable act of aggression by a 206-pound professional athlete of a man against a woman.
Don't applaud Commissioner Roger Goodell and the National Football League, because their initial response to Rice's deplorable actions was to levy a two-game suspension. Two games. That's 120 minutes of work for a professional football player. Most of us have spent more time waiting to have our licenses renewed at the Department of Motor Vehicles than Rice was scheduled to miss due his domestic violence charge.
The first man through the wall is often the one who sustains the worst injuries. Goodell and the NFL had a chance to take a stance against domestic violence, to stand up and declare, "This type of behavior is both disgusting and completely unacceptable and has no place in our profession."
Instead, Goodell and the NFL issued a two-game suspension and moved on to the next item on the agenda.
Don't be fooled. The NFL didn't serve Rice with an indefinite suspension because they were outraged by the running back's conduct in Atlantic City. The time for a rational and acceptable punishment had already passed. The NFL came down on Rice Monday because it's imperative that Roger Goodell and the rest of his staff at 345 Park Avenue do everything in their power to protect the almighty "Shield." And with the mob assembling pitchforks in hand, the league needed to defuse the situation so that it could get back to business as usual.
The message here wasn't, "Domestic violence will not be tolerated." The message was instead, "You're angry that we screwed up and we're going to fix this so that you'll keep watching."
I've said it before and I'll say it again: The National Football League is reactive, not proactive. It requires courage to stand up and establish a stance where no one has stood up before. It's much easier to stick to the script and hope that the bottom line doesn't suffer as a result.
Don't applaud, because there are no winners when it comes to domestic violence. There are only those who understand the gravity of such horrifying aggression and those who don't.
Hit me up on Twitter: @JoeFortenbaugh