June 10, 2014 -
Joe Fortenbaugh
Ready for the spotlight?
A storied program located on one of the country's most fertile recruiting grounds, the UCLA Bruins toiled away in mediocrity during a six-year stretch beginning in 2006 that saw the university post an anemic 34-43 record with just one bowl victory (2009). While UCLA was stalling at the starting line during that aforementioned time period, crosstown rival USC was thriving, going a combined 61-16 with a perfect 4-0 postseason record. It turned out that the battle for Los Angeles wasn't a battle at all. It was a one-sided massacre dominated by the Men of Troy.
All of that changed in December of 2011 when the powers that be at UCLA brought in former Atlanta Falcons and Seattle Seahawks head coach Jim Mora Jr., who wasted no time elevating the Bruins back into the national spotlight. Mora's two seasons in southern California have resulted in two bowl appearances (1-1) and an overall record of 19-8, while UCLA's ten-win season in 2013 was the school's first double-digit win campaign since 2005.
As a result, the expectations for the 2014 season are at an all-time high in Westwood. Mora's Bruins not only posted one more win in 2013 than they did in 2012, but the team also went from a turnover differential of +3 to +11 and a third down conversion percentage of .426 to .446 against conference opposition. The problem, however, is that UCLA's scoring differential dropped from +60 to +45 while the school's sack differential shifted from -4 to -6 against conference opponents.
Residing in a Pac-12 conference that gets tougher by the year, the questions facing the UCLA Bruins this season are much more direct than they have been in the past. Can the school get past powerhouses Oregon and Stanford to claim their first conference championship since 1998? And if so, is it reasonable to believe that the Bruins can make a serious run at the national championship?
THE OFFENSE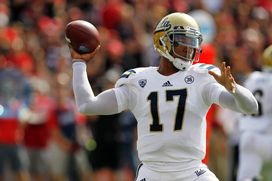 US PRESSWIREThe return of Hundley gives UCLA one of the best quarterbacks in the nation.
UCLA's stock shot through the roof in January when quarterback Brett Hundley announced he would return to the Bruins sideline for his redshirt junior season. A dual threat signal-caller who has completed an astounding 66.7 percent of his passes through 27 career games, Hundley is a preseason Heisman Trophy contender who finished second in the Pac-12 in passer rating last season (149.2) behind only Oregon's Marcus Mariota.
Hundley's numbers dipped a bit from 2012 to 2013, but some of that can be attributed to an offensive line that was both inexperienced and injury-prone. That shouldn't be the case in 2014 as three of five starters protecting Hundley are back, including 6-5, 300-pound guard Alex Redmond.
Leading receiver Shaq Evans departed for the professional ranks, but the Bruins have no shortage in the firepower department thanks to the return of wideouts Devin Fuller (43-471-4), Jordan Payton (38-440-1) and Devin Lucien (19-339-2), who ranked second, third and fourth, respectively, in receptions last year.
Between the runners and receivers, UCLA returns 57.5 percent of its offensive output from a year ago.
THE DEFENSE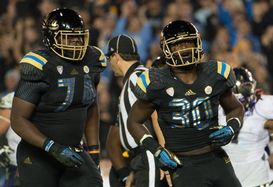 Jack (right) anchors a defense that returns seven starters in 2014.
Sophomore outside linebacker Myles Jack, who became the first player in conference history to win both Pac-12 Offensive and Defensive Freshman of the Year honors, leads a unit that returns seven starters from the 2013 campaign. Jack notched 75 tackles, a sack and a team-high 11 pass deflections last season and will be counted on to replace the production lost by the departure of first-round draft pick Anthony Barr (10 sacks in 2013).
Cornerbacks Fabian Moreau and Anthony Jefferson and safety Randall Goforth give the Bruins three experienced playmakers in the secondary to aid in the school's attempt to improve on the 26.1 points per game surrendered to conference foes last season. Sophomore nose tackle Kenny Clark will anchor a defensive line that returns 6-4, 305-pound defensive end Eddie Vanderdoes.
This unit surrendered more than 31 points in a game just twice last season (Oregon, Arizona State) while holding opponents to 21 or fewer points six times. But the key here will be to see how former linebackers coach Jeff Ulbrich handles the promotion to defensive coordinator, as former UCLA DC Lou Spanos departed for the Tennessee Titans during the offseason.
THE SCHEDULE
8/30: at Virginia
9/6: vs. Memphis
9/13: vs. Texas (at Arlington)
9/25: at Arizona State
10/4: vs. Utah
10/11: vs. Oregon
10/18: at California
10/25: at Colorado
11/1: vs. Arizona
11/8: at Washington
11/22: vs. USC
11/28: vs. Stanford
The Bruins benefit from the fact that the team's three biggest games of the season (Oregon, USC, Stanford) will be played at home. In addition, UCLA gets two weeks to prepare for new-look crosstown rival Steve Sarkisian and USC. Potential pitfalls include a late September road trip to Arizona State, who defeated the Bruins 38-33 last season, and a November 8 visit to the Pacific Northwest to take on the Washington Huskies and new head coach Chris Petersen (formerly of Boise State fame).
FROM THE EXPERTS
Nine of UCLA's 12 games (at Virginia, at Texas, at Arizona State, vs. Oregon, at California, vs. Arizona, at Washington, vs. USC, vs. Stanford) are scheduled to hit the board at the Golden Nugget sports book on June 13. Additionally, offshore sports book 5Dimes.eu has the UCLA season win total currently listed at 9.5 wins (over: -135, under: -105) while Vegas shop CG Technology posted the Bruins at 9.5 wins as well (over: -115, under: -115).
"I have UCLA ranked as the second best team in the Pac-12," Chris Andrews, bookmaker and co-founder of the website Against The Number told the National Football Post. "They have the ability to run the table or at least play for the Pac-12 championship. However, there a few real trouble spots on their schedule. Their first big test will be at Texas. I know Texas is down, but that will not be an easy game for them. I have UCLA as 4-point favorite in my early power ratings, but that's a long way from a sure win. Two weeks after the Texas game, the Bruins travel to Arizona State. I have ASU just a notch below them in my power ratings. In Tempe, I have to believe UCLA will be a slight dog, though it is a very winnable game for them.
"Two weeks after ASU they host Oregon, who is my number one ranked team in the Pac-12. Again, a winnable game for UCLA, but they have to be a dog at this point. Later they play at Washington, who I think will be improved. UCLA should be a small favorite, but again, a long way from a certain victory. Then it's on to USC, where they will be a small favorite, followed by the season-finale against an always tough Stanford team.
"I think the Bruins are a very good team. I have the Pac-12 as my second highest rated conference, as do most people. Being the second best team there to start the season means I have a lot of respect for them. But with so many close games, it will be awfully tough to win them all. UCLA actually has the talent to do it, and if they do they certainly will qualify for the final-four playoff. More likely they'll win a few and lose a few."
2013 RESULTS
8/31: Win, 58-20 vs. Nevada
9/14: Win, 41-21 at Nebraska
9/21: Win, 59-13 vs. New Mexico State
10/3: Win, 34-27 at Utah
10/12: Win, 37-10 vs. California
10/19: Loss, 24-10 at Stanford
10/26: Loss, 42-14 at Oregon
11/2: Win, 45-23 vs. Colorado
11/9: Win, 31-26 at Arizona
11/15: Win, 41-31 vs. Washington
11/23: Loss, 38-33 vs. Arizona State
11/30: Win, 35-14 at USC
12/31: Win, 42-12 vs. Virginia Tech (Sun Bowl)
Hit me up on Twitter: @JoeFortenbaugh
Follow Chris on Twitter: @andrewssports