January 09, 2013 -
Joe Fortenbaugh
Recent history isn't on Atlanta's side
It would be more than welcoming if there was one, single statistic that produced winners 90% of the time. Winters spent lying on a Caribbean beach celebrating a successful run in the NFL would quickly replace the second-guessing that rears its ugly head each offseason over wagers that went the wrong way for one reason or another.
Sadly, this type of Harry Potter sorcery doesn't exist. It would make the game too easy. Instead, elbow grease and attention to detail continue to dominate the landscape, as power rankings, statistical study and situational analysis remain three of the most trusted weapons in the handicapper's arsenal.
Today we're going to look at one of the statistics that makes an appearance in the work product of seasoned handicappers across Las Vegas. This stat is known as yards per play differential (YPPD) and it's calculated by taking a team's yards per play average on offense and subtracting said team's yards per play average surrendered on defense.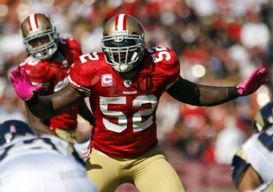 Patrick Willis and the 49ers led the NFL in YPPD during the regular season.
Example: The Tampa Bay Buccaneers averaged 5.77 yards per play on offense this season while surrendering an average of 5.90 yards per play on defense. This gives the Buccaneers a YPPD of -.13, which ranked 19th in the NFL during the regular season.
YPPD is important to consider because, just like sack differential, it produces one, clean little number that tells a lengthy story which encompasses both a team's ability to generate production on offense while getting stops on defense. You would call Drew Brees and the New Orleans Saints an explosive offense, wouldn't you? Well, so would the team's 6.16 yards per play average from 2012, which ranked second in the NFL. Unfortunately for the Saints, the defense gave up an average of 6.47 yards per play this season (worst in NFL), which helps explain why one of the most productive quarterbacks in the league is home for the playoffs.
One glance at the chart listed at the bottom of this story, along with some quick arithmetic, gives us the following numbers from the 2012 season:
1. Teams that ranked in the top-10 in YPPD in 2012 went a combined 103-56-1 (.647) straight-up and 89-68-3 (.566) against the spread this season.
2. Teams that ranked in the bottom-10 in YPPD in 2012 went a combined 55-105 (.343) straight-up and 71-87-2 (.449) against the spread this season.
3. Of the 15 teams that posted a positive YPPD in 2012, ten qualified for the postseason. Only Atlanta (-.12) and Indianapolis (-.79) failed to hit that mark.
4. The four teams that came up victorious in the Wild Card round both straight-up and against the spread (Houston, Green Bay, Baltimore and Seattle) all posted a higher YPPD in 2012 than their respective opponents (Cincinnati, Minnesota, Indianapolis, Washington).
5. The top-two teams in YPPD in 2012 (San Francisco and Denver) went 4-0 straight-up and 2-2 ATS against the bottom-two teams in YPPD (Kansas City and Arizona).
The main reason we're discussing this statistic today is because the league's top-three teams in YPPD are in action this weekend and we're interested to see how it all shakes down:
San Francisco 49ers (+1.32 YPPD, first in NFL) -3 vs. Green Bay Packers (+.30, 8th)
Denver Broncos (+1.26 YPPD, second in NFL) -9 vs. Baltimore Ravens (+.24, 10th)
Seattle Seahawks (+.71 YPPD, third in NFL) +2.5 at Atlanta Falcons (-.12, 18th)
Both the 49ers and Broncos were a full yard better in YPPD than their Divisional Round opponents, while the Seahawks take on the only team still in contention with a negative YPPD.
We're laying the lumber with Denver and San Francisco, but are still in the process of determining whether or not Seattle is worth a play. Back-to-back east coast road trips against a team coming in on an extra week of rest? This game illustrates the perfect example of why it's important to use all of the tools in your toolbox rather than blindly grabbing a hammer when a screwdriver would do the trick.
Which do you value more: The stats or the situation?
Oh yeah, and for the Falcons fans in the house, you may want to keep this in mind: No team has posted a negative YPPD during the regular season and gone on to win the Super Bowl since the 2001 New England Patriots.
Hit me up on Twitter: @JoeFortenbaugh