December 10, 2012 -
Joe Fortenbaugh
Recipe for a blowout
It doesn't take much to lose a football game in the NFL. A costly turnover here, a poor coaching decision there and boom, you're headed for the showers with the knowledge that the next morning will bring nothing more than a bad headache and another notch in the loss column.
But to lose a game in style, to encounter defeat in the most humiliating of fashions, well, that's a different beast altogether. To suffer a systematic failure in every facet of the contest that prompts a head coach to apologize for his team's embarrassing performance requires something special. 17-10 losses like the one the Jacksonville Jaguars endured at the hands of the New York Jets on Sunday are quickly forgotten, resigned to the historical scrapheap of professional matchups that aren't worth revisiting.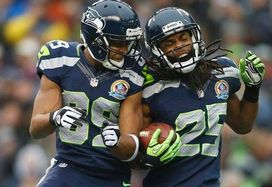 Richard Sherman (right) celebrating one of his two interceptions in Sunday's win over Arizona.
58-0 losses that set a new precedent for worst defeat in franchise history are the ones we remember. These are the blowouts that go down in history, if only to serve as a reminder that the phrase "Any given Sunday" is applicable to more than just your run-of-the-mill upset win.
The Arizona Cardinals made history on Sunday for all the wrong reasons. But in the process, the organization reaffirmed the tried-and-true blueprint for how to lose in spectacular fashion. There are mistakes, and then there's Chernobyl.
This is not a story about the Seattle Seahawks, who played exceptionally well on Sunday. This is a look at how the Arizona Cardinals went down in flames and reminded us that parity is often times nothing more than just a word.
Recipe for a blowout loss (serves 53)
One-part poor quarterback play: Ken Whisenhunt is a man who wants to eat steak for dinner, but he's severely lacking in several key areas that make a steak dinner worth eating. He's got an empty propane tank (John Skelton), a broken piece of very expensive dinnerware (Kevin Kolb) and a bottle of cheap Cabernet Sauvignon (Ryan Lindley) that the vineyard told him to lay down for a few years before opening in order to let the wine mature. Whisenhunt is required to prepare and consume the meal anyway.
With Kevin Kolb and rookie Ryan Lindley standing on the sidelines, Skelton took control of the Arizona offense in Week 14. He completed just 11 of 22 passes for 74 yards with five turnovers. Not including punts, all nine offensive "drives" that Skelton oversaw consisted of seven or fewer plays. Five of those "drives" consisted of only three or fewer plays. Four resulted in punts, while five concluded with turnovers.
Lindley made an appearance in the second half, but we'll get to that soon enough.
Eight-parts turnovers: Think of a blowout loss as a spicy Cajun dish, with turnovers playing the role of both garlic and hot sauce. No blowout is complete without at least four or five turnovers, but the Cardinals wanted something truly spicy. This is a meal you would likely witness consumed on the show Man v. Food, in which Adam Richman would be given 15 minutes to consume the entire dish without vomiting in order to have his picture plastered on the restaurant's wall.
The Arizona quarterbacks accounted for six of the team's eight turnovers, but defensive back and punt returner Patrick Peterson played an integral role as well. During the toxic landfill that also functioned as the game's second quarter, Peterson muffed a punt and fumbled another that resulted in two Seattle touchdowns, both of which happened faster then the time it took for this writer to bang-out his 25 Sunday push-ups.
Seattle scored 30 of their 58 total points off of Arizona's eight turnovers. In the team's previous 13 games, only once had the Seahawks posted a total of 30 points (November 4 vs. Minnesota).
One-part turning point: Every good blowout features a turning point. This is the moment in the game when everybody witnessing the events transpiring on the field knows that the contest is about to get out of hand. At this point it's no longer a question of whether or not the losing side will mount a comeback. This is the juncture when those watching begin to wonder how spectacularly awful the rest of the show will truly get.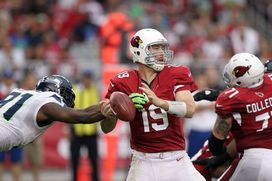 Quarterback John Skelton accounted for five turnovers in less than three quarters of action.
The turning point in the Arizona-Seattle game took place with 10:20 remaining in the second quarter. Trailing 17-0, the Arizona defense momentarily stopped the bleeding by forcing a Seahawks three-and-out. But the Cardinals offense promptly jumped offside following the change of possession, which set up a first-and-14 from the team's four-yard line.
Eight seconds later the score was 24-0 after Skelton threw a 19-yard pick-six to Seattle cornerback Richard Sherman.
From there, the rout was on.
One-part failure to utilize talent: Wide receiver Larry Fitzgerald is the best player on the Arizona roster.
He didn't record a reception until the 7:09 mark of the fourth quarter. Said reception went for a two-yard gain.
It was his only catch of the afternoon.
One-part lack of pride: A man's true character and competitive spirit are displayed not during his moments of triumph, but in his time of despair.
There are usually a handful of players who step-up in the face of an impending blowout loss, amassing both yards and points in an effort to mitigate the collateral damage. Those in the fantasy football business refer to this late push as "garbage time." Garbage time numbers can help ease the pain when looking back to see that your team lost 49-21 instead of 56-0.
There was a disturbing lack of pride displayed on the part of the Arizona Cardinals Sunday afternoon. This is what made their blowout loss so magnificent. Not one, single player stepped up and made a play at any point during the game. This was such a horrendous performance that the Cardinals never even got in position to attempt a field goal in the hopes of preventing a shutout.
Trailing 38-0 at the half, the Cardinals came out of the locker room and mustered a grand total of 60 yards and zero points during the final 30 minutes of the contest, while the Seahawks piled up another 20 points and 255 yards of offense.
One-part breaking records: It wouldn't be a true blowout if both teams failed to shatter some sort of organizational record for either success or futility. In this case, we have multiple milestones that were eclipsed by both teams on Sunday:
1. The 58-0 defeat constitutes the worst loss in Arizona Cardinals franchise history.
2. The 58 points surrendered by the Cardinals are the most points ever scored by an opponent in franchise history.
3. The Seahawks set a new franchise record for points scored in a game, with 58.
I'm sure there may be a few other milestones that were broken during Sunday's matchup (has Arizona ever committed more than eight turnovers in a game?), but for now, these three will more than suffice for our recipe.
Two-parts quarterback substitution: The moment of true embarrassment. The point in time in which everybody knows the game is over. The starting quarterback of the winning team is brought to the sidelines to prevent injury. His job is done.
With 10:19 remaining in the third quarter and leading 45-0, rookie quarterback Russell Wilson was told his day was over. The former Wisconsin standout had completed seven of 13 passes for 148 yards with one touchdown and one interception in just over 30 minutes of game time. That was all it took.
For completely different reasons, Whisenhunt gave the hook to Skelton with 7:35 remaining in the third quarter in favor of Lindley. The rookie from San Diego State completed eight of 17 passes for 59 yards with no touchdowns and one turnover.
It was neither good nor bad. It was simply irrelevant.
These are the ingredients that comprise the recipe for a blowout loss. It is a recipe you are more likely to find in the Anarchist Cookbook</strong> than in Rachael Ray's Open House. The Surgeon General has advised against any NFL team from attempting to prepare this meal, as it is both bad for the heart and bad for the mind. It is a meal that nobody who cooks it enjoys.
And with that being said, I'm off to In-N-Out Burger for lunch.
Hit me up on Twitter: @JoeFortenbaugh