March 09, 2012 -
Joe Fortenbaugh
Redskins pull the trigger, acquire No. 2 pick
It looks like Mr. Griffin is headed to Washington.
In a blockbuster trade that is sure to steal the headlines away from Peyton Manning for at least a brief moment, the Washington Redskins have acquired the second-overall pick in April's draft from the St. Louis Rams, according to a report from Jay Glazer of FoxSports.com.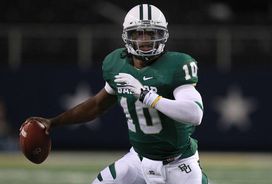 It looks like RG3 is headed for the NFC East.
In exchange, the 'Skins have agreed to send three first-round picks (2012, 2013, 2014) to the Rams as well as this year's second-round selection.
While it's no sure-thing as of the moment, the prevailing thought process around the league is that the Redskins will use their newly acquired pick to draft Baylor quarterback and Heisman Trophy winner Robert Griffin III, assuming the Indianapolis Colts select Stanford signal-caller Andrew Luck with the first pick.
The only downside for the head coach Mike Shanahan and the Redskins is that the deal cannot be made official until the start of the new league year on Tuesday at 4:00pm.
Per Adam Schefter of ESPN, the Cleveland Browns—who currently own the fourth-overall selection—were interested in trading with the Rams and were even willing to give up three first-round selections, but the Redskins got aggressive and locked down the deal before Browns general manager Mike Holmgren could pull the trigger.
You've got to hand it to the Redskins for changing gears and getting the job done after coming to terms with the fact that free agent quarterback Peyton Manning wasn't interested in signing with the organization. Now the team can turn their attention to free agent wide receivers such as Vincent Jackson in an effort to start acquiring more firepower for their soon-to-be drafted franchise quarterback.
Hit me up on Twitter: @JoeFortenbaugh