July 28, 2011 -
Barry Dorey
Reggie Bush is now a Dolphin
After five years and one Super Bowl win in New Orleans, former first-round pick Reggie Bush is headed to Miami.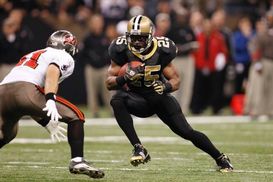 ICONReggie Bush is now a member of the Miami Dolphins.
Per Adam Schefter, the 26-year-old running back and the Dolphins have reached an agreement on a two-year deal that was the final step in completing a Miami-New Orleans trade that commenced Wednesday evening. Per a league source, the contract is worth just under $10 million, with a $2.5 million signing bonus and a $2.5 million salary this year and a $4.5 million salary plus workout bonus next year.
As we (and just about everyone else) mentioned earlier, Bush was scheduled to make $11.8 million with the Saints this season, a number that seemed semi-outrageous given Bush's mediocre production over the last two years.
In addition to Bush, the Dolphins also selected running back Daniel Thomas (Kansas State) in the second-round of April's draft.
Hit me up on Twitter: @JoeFortenbaugh