July 28, 2011 -
Barry Dorey
Reggie Bush to Miami? A deal is in the works
Sun Life Stadium has been awfully good to Reggie Bush. The veteran running back won a National Championship there with USC in January of 2005 and followed that up with a Super Bowl win as a member of the Saints in February of 2010.
Now it looks as if he may be calling that venue home for at least eight games every year.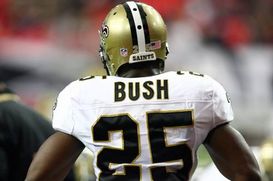 Bush would have the opportunity to start fresh in Miami.
Jay Glazer of FOX Sports reports that the Dolphins and Saints have agreed to terms on a trade that would send Bush to Miami, contingent on the 26-year-old agreeing to a new contract.
Due to make $11.8 million in 2011, the only way Bush was coming back to New Orleans was if he agreed to restructure his contract. While he poses serious matchup problems for opposing defenses, you have to keep in mind that the five-year veteran has only rushed for 2,090 yards in 60 career games.
That's not exactly what the Saints had in mind when they selected Bush second overall back in 2006.
As for the Dolphins, the Bush report capped a very busy Wednesday in which the team was also rumored to be closing in on a deal for veteran quarterback Kyle Orton.
Miami is obviously looking to upgrade their roster. The question is, are Orton and Bush the right guys for the job?
How big of a move is this for the Dolphins? Discuss it now in the NFP Forums!
Hit me up on Twitter: @JoeFortenbaugh