March 13, 2012 -
Joe Fortenbaugh
Reggie Wayne is staying with the Colts
Somewhere at this very moment, future NFL quarterback Andrew Luck is breathing a sigh of relief at the fact that the Indianapolis Colts have left him at least one viable weapon to work with.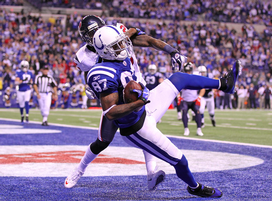 At least there will be one familiar face in Indianapolis next season.
In a surprising twist, free agent wide receiver Reggie Wayne has decided to come back to Indianapolis rather than be part of a "package deal" with former teammate Peyton Manning. Per Adam Schefter, Wayne and the Colts came to an agreement on a three-year deal Tuesday evening.
With Pierre Garcon, Dallas Clark and Joseph Addai no longer with the team, it was starting to look like Luck was going to have his work cut out for him in Indianapolis. Now that Wayne is back in the mix, the former Stanford signal-caller will have an experienced five-time Pro Bowler at his disposal, which should help with his transition from the Pac-12 to the NFL.
Hit me up on Twitter: @JoeFortenbaugh