March 14, 2012 -
Joe Fortenbaugh
Report: Brandon Marshall accused of 'slugging' woman at nightclub
Now we know why the Miami Dolphins were willing to part ways with Pro Bowl wide receiver Brandon Marshall for the discounted price of two third-round draft picks.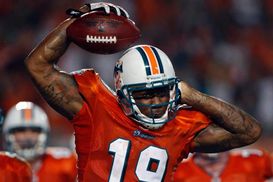 If the accusations are true, the Bears could be feeling a bit of buyer's remorse come Wednesday morning.
According to the New York Post, the Pro Bowl wide receiver "slugged" a woman at a New York nightclub this past Sunday. And get this: Apparently, the Chicago Bears were unaware of the incident before they shipped two draft picks to Miami in exchange for Marshall.
Per the report, Marshall was being thrown out of the Chelsea nightclub "Marquee" early Sunday morning because he was involved in a fight with another athlete. The two were removed from the club and while outside, Marshall allegedly punched 24-year-old Christin Myles, who was at Marquee celebrating her birthday.
Marshall's lawyer told the New York Post that the fight did not involve the wide receiver or any of his friends, so it's important to wait until we have all the facts before rushing to judgment.
But that's easier said than done, considering the fact that Marshall has had numerous run-ins with the law since entering the NFL back in 2006.
Stay tuned.
Hit me up on Twitter: @JoeFortenbaugh