August 04, 2011 -
Barry Dorey
Report: Eagles' Patterson has brain AVM
After collapsing on the practice field Wednesday morning, Philadelphia Eagles defensive tackle Mike Patterson has been diagnosed with arteriovenous malformation (AVM) according to Sal Paolantonio of ESPN.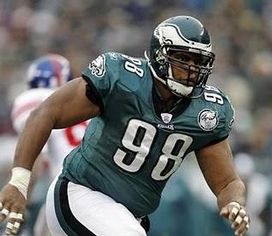 Patterson was rushed to the hospital Wednesday.
AVM is a condition where blood vessels get tangled in the skull. It can be treated via surgery or radiation.
In a scary moment that wound up making headlines around the country, the 27-year-old Patterson was taken to Lehigh Valley Hospital by ambulance Wednesday morning after collapsing on the field during Philadelphia's morning session.
A few hours later, reports surfaced that Patterson was awake, in stable condition and joking with the hospital's staff.
No timetable has been set for his return to the football field.
Hit me up on Twitter: @JoeFortenbaugh