June 27, 2013 -
Joe Fortenbaugh
Report: Hernandez now focus of separate murder investigation
Safiro Furtado and Daniel Abreu were sitting in a car at a traffic light in downtown Boston on July 16, 2012 when they were murdered shortly after leaving a nearby bar. To date, the double-homicide has gone unsolved, but investigators are now looking into a new potential suspect: Former New England Patriots tight end Aaron Hernandez.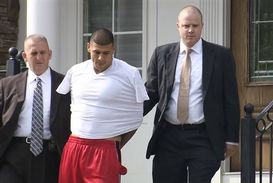 According to a report from FOX 25 in Boston who talked to an unnamed source, investigators are currently looking at Hernandez in connection to the killing of Furtado and Abreu.
The news comes approximately 24 hours after Hernandez was arrested and charged with first-degree murder and five weapons charges in connection with the death of semi-professional football player Odin Lloyd.
According to the FOX 25 report, Furtado and Abreu were riding in the front seat of a vehicle at the intersection of Shawmut Avenue and Herald Street when the occupants of a nearby SUV with Rhode Island tags opened fire. Furtado and Abreu were both killed, while a third passenger who was in the back seat survived.
Hit me up on Twitter: @JoeFortenbaugh