August 15, 2011 -
Joe Fortenbaugh
Report: Jeremy Maclin is 'fine'
Should Jeremy Maclin's older brother turn out to be right, expect to hear a big sigh of relief coming from the greater Philadelphia area over the next 24 hours.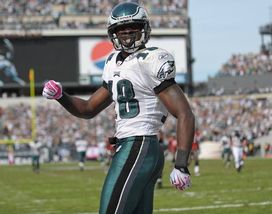 Eagles wideout Jeremy Maclin appears to be fine.
According to a Monday afternoon report from the Sporting News, Andre Maclin—the older brother of Eagles wide receiver Jeremy Maclin—says the 23-year-old wideout is "fine" and that an announcement will be coming on Tuesday.
When asked by the Sporting News if his younger brother will play for the Eagles this season, Andre Maclin responded, "I'm confident about that as well."
The news puts to rest growing speculation that Maclin wouldn't be able to play in 2011 due to a mysterious illness he has been battling, which showed up after the two-year veteran lost 15 pounds this past offseason due to mononucleosis.
We're happy to hear that the situation appears to be much less severe than some originally thought. Best of luck to Maclin moving forward.
Hit me up on Twitter: @JoeFortenbaugh