July 27, 2011 -
Barry Dorey
Report: Kolb won't be at training camp
While we're still waiting for the bomb to drop, a minor Kevin Kolb story will have to suffice for now.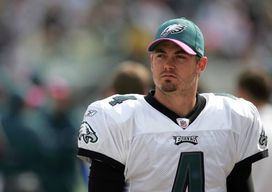 ICONChances are we've seen the last of Kevin Kolb in an Eagles uniform.
According to Jeff McLane of the Philadelphia Inquirer, Eagles backup quarterback Kevin Kolb won't be at Lehigh University for the team's first practice on Thursday.
The 26-year-old signal-caller is still technically under contract with the Eagles, meaning if he isn't shipped to Arizona—or someplace else—by Thursday morning, he would be required to show up at Lehigh. According to McLane, Kolb won't be in attendance on Thursday even if the team fails to move him.
At this point in time, does anyone think the Cardinals and Eagles will fail to get a deal done?
When will Kevin Kolb be traded? Let us know your thoughts in the NFP Forums!
Hit me up on Twitter: @JoeFortenbaugh