April 22, 2013 -
Joe Fortenbaugh
Report: Niners looking to trade up in first round
With a total of 13 draft picks—including five selections within the top-93—the San Francisco 49ers enter the 2013 NFL draft with an abundance of both opportunity and flexibility. If the defending NFC Champions want to get aggressive and move up from the 31st position in the first round, the organization certainly possesses the ammunition necessary to execute such a maneuver.
Jason Cole of Yahoo! Sports mentioned on Sunday that the 49ers are interested in doing just that. Per Cole: "It's believed by at least one GM that the Niners are interested in moving up to the 13th or 14th overall pick. There is no way that the 49ers can keep more than five or six new draft picks with the way the team is structured right now. Expect GM Trent Baalke to either trade up or trade out picks in the future."
The New York Jets currently own the 13th overall selection thanks to Sunday's trade that saw cornerback Darrelle Revis leave town for Tampa Bay. The Carolina Panthers are in possession of the 14th pick.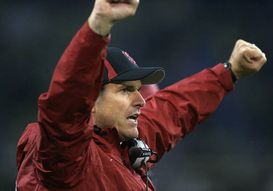 Are Jim Harbaugh and the 49ers set to trade up for a defensive lineman?
And so begins the speculation of which player (or players) the Niners are interested in acquiring, should such a trade take place. With the 16th pick, the St. Louis Rams are rumored to be very interested in West Virginia wide receiver Tavon Austin, so is it possible that San Francisco could be looking to leapfrog a divisional rival? That's somewhat unlikely, considering the Niners already have Michael Crabtree, Mario Manningham and A.J. Jenkins on the roster, in addition to Anquan Boldin, who was acquired from the Ravens during the offseason.
On the defensive side of the ball, Cole notes in his article that San Francisco could be in the market for a defensive lineman "who can eventually step in for veteran Justin Smith." That means Utah's Star Lotulelei, Florida's Sharrif Floyd, Missouri's Sheldon Richardson and North Carolina's Sylvester Williams could all be potential targets for a trade.
We'll find out the truth in three days.
Hit me up on Twitter: @JoeFortenbaugh