August 03, 2011 -
Barry Dorey
Report: Orton named the starter, will not be traded
You can stop chanting, Dolphins fans. It looks like Kyle Orton is staying in Denver.
Michael Lombardi of the NFL Network is reporting that Orton has been named the starting quarterback in Denver and will not be traded.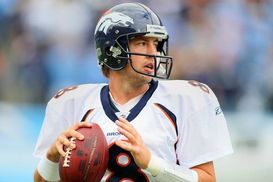 ICONOrton has already been named the Broncos starting quarterback.
The news momentarily puts to bed any speculation that A) Orton will be traded to Miami (or any other team for that matter) and B) that Tim Tebow—despite a respectable showing down the stretch in 2010—will be under center for the Broncos come Week 1.
In the two years since being traded to Denver, Orton has gone 11-17 as the starting quarterback with a QB rating of 87.2.
You'd have to imagine the speculation will now turn to former first-round pick Tim Tebow and what's next for the 23-year-old quarterback. Do the Broncos plan on keeping the former Heisman Trophy winner? Does he have any chance of seeing the field this season?
We have a feeling this isn't the last we'll be hearing about the quarterback situation in Denver. Should a starting signal-caller go down sometime during the next few weeks, expect the rumor mill to get fired up once again over the availability of Kyle Orton.
Hit me up on Twitter: @JoeFortenbaugh