April 19, 2011 -
Joe Fortenbaugh
Report: Packers to host Saints in season opener
Drew Brees and the New Orleans Saints will once again take part in the NFL's Thursday night season opener.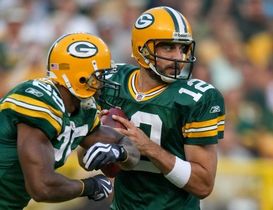 ICONRodgers and company will begin their title defense with the Thursday night opener.
Although instead of playing in the cozy confines of the Louisiana Superdome like they did in 2010, Brees and co. will travel to Lambeau Field to take on the defending Super Bowl champion Green Bay Packers, per Bob McGinn of the Milwaukee Journal Sentinel.
Per other reports that are flying around the internet at the current moment, the Packers will also host the Chicago Bears on Christmas Day.
Stay tuned for more updates as the 2011 NFL schedule will be released at 7:00pm eastern.
Hit me up on Twitter: @JoeFortenbaugh