July 09, 2013 -
Joe Fortenbaugh
Report: Stafford cashes in his chips to the tune of $53 million
Paging Matt Ryan to the batter's box.
Franchise quarterbacks have been striking it rich in recent months, with Aaron Rodgers, Tony Romo and Joe Flacco all breaking the bank with their respective teams. And with just two months to go until the start of the 2013 season, we can add another name to that growing list of high-priced signal-caller talent.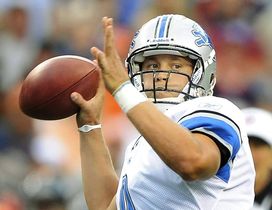 Stafford becomes the latest in a long line of franchise quarterbacks to ink fat new contracts.
ESPN is reporting that the Detroit Lions and quarterback Matthew Stafford have come to terms on a three-year contract extension worth $53 million. According to the report, Stafford will make $43 million in guaranteed money through 2017.
According to the terms of the deal, Stafford's extension will commence in 2015, with the quarterback playing out the final two years of his current contract ($23.5 million).
Prior to Tuesday's news, the 25-year-old Stafford had three years remaining on a 2012 contract renegotiation that carried salary cap numbers of $20.82 million in 2013, $19.32 million in 2014 and $17.721 million in 2015 (voidable if on roster second day after 2014 Super Bowl). The quarterback's new extension will keep him under center in Detroit until 2017.
The Georgia product's NFL career got off to a slow start after injuries limited Stafford to just 13 starts over his first two seasons. But the first overall pick of the 2009 NFL draft has come back to start every game since 2011, throwing for 10,005 yards and 61 touchdowns with a QB rating of 88.1.
And now that Stafford and the Lions have reached an accord, all eyes will turn to Atlanta where another top draft pick awaits his brand new payday.
Hit me up on Twitter: @JoeFortenbaugh