July 26, 2011 -
Barry Dorey
Report: Tarvaris Jackson headed to Seattle
Matt Hasselbeck is out, Tarvaris Jackson is in.
Per a tweet from Danny O'Neil of the Seattle Times, the Seahawks have reached an agreement with free agent quarterback and former Minnesota Viking Tarvaris Jackson.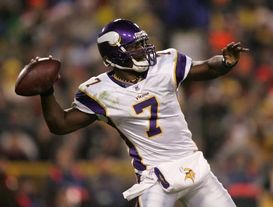 Looks like Tarvaris Jackson could finally be getting his wish: a starting job.
According to this year's free agency rules, Jackson cannot officially sign the contract until Friday at 6:00pm eastern.
The news of the move comes quickly on the heels of a report that former starting signal-caller Matt Hasselbeck won't be back with the Seahawks in 2011. In addition, now that an agreement with Jackson has been reached, it looks like Seattle will be pulling out of the Kevin Kolb sweepstakes, meaning the Eagles just lost a bit of leverage in their discussions with the Arizona Cardinals.
Jackson made 12 starts for the Vikings back in 2007, but has played backup to Brett Favre in each of the last two seasons. For his career, T-Jax is 10-10 as a starter.
I guess this puts an end to the Charlie Whitehurst experiment, right?
Will Jackson lead the Seahawks back to the playoffs? Discuss it now in the NFP Forums!
Hit me up on Twitter: @JoeFortenbaugh