November 10, 2010 -
Joe Fortenbaugh
Report: Vegas yanks Auburn game off the board
You had to figure something like this was eventually going to happen.
Earlier this week, Las Vegas oddsmakers installed the Auburn Tigers as 8.5-point favorites over the Georgia Bulldogs for this Saturday's SEC showdown. But if you were thinking about throwing down some coin on either the Tigers or the Bulldogs Wednesday afternoon, you were out of luck.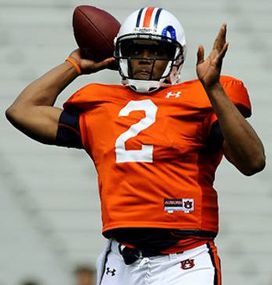 Does Vegas know something we don't about Cam Newton?
That's because Vegas pulled the game off the board.
According to David Payne of Covers.com, a professional sports bettor placed a bet on Georgia Wednesday morning at +8.5. Minutes later, MGM Mirage sportsbook manager Jeff Stoneback took the game off the board because he was "hearing reports that Cameron Newton's status may be a game-time decision."
Newton is the Auburn quarterback who is currently facing a firestorm of allegations ranging from improper payments to academic dishonesty.
Stonebeck went on to tell Payne that shortly after the professional bettor placed his wager on Georgia, "we got an alert from one of our services about the news."
Whether or not Newton will be eligible for this Saturday's game remains to be seen. But Wednesday's event is not the first time something like this has happened in Vegas.
Last December, Vegas bookmakers had to pull the Dolphins-Patriots game off the board because rumors regarding New England quarterback Tom Brady's playing status led to an unusual amount of bets on the underdog Dolphins.
The game opened at around New England -7, was pulled off the board and then re-emerged at New England -3.5.
The Miami Dolphins won the game outright 22-21, as Brady threw two interceptions.
It's now going to be even more interesting to see how Saturday's showdown between the 10-0 Tigers and the 5-5 Bulldogs shakes down.
Hit me up on Twitter: @JoeFortenbaugh