October 14, 2012 -
Joe Fortenbaugh
Report: Vick's gone if he doesn't lead Philly to the playoffs
The pressure is mounting in Philadelphia.
Adam Schefter of ESPN reports that "league sources believe" the Philadelphia Eagles will part ways with starting quarterback Michael Vick if the Virginia Tech product is unable to lead the team to the playoffs this season.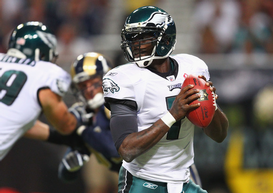 Vick's days in Philly appear to be numbered.
The 32-year-old signal-caller is scheduled to make $16 million in 2013, with $3 million of that becoming fully guaranteed three days after the Super Bowl (February 6). Per Schefter, should the Birds dump Vick prior to that date, the team would be off the hook entirely and would have no financial obligation to the quarterback.
Despite a 3-2 record that includes an impressive win over the Baltimore Ravens, Vick has struggled mightily in 2012, already recording a staggering 11 turnovers while completing just 58.4% of his passes. In addition, Vick has already been sacked 14 times through five games (t-sixth-most in NFL).
But Vick isn't the only guy in Philadelphia feeling the heat at the moment. Eagles owner Jeffery Lurie made it clear in recent months that head coach Andy Reid could find himself in the unemployment line as well if the team doesn't qualify for the postseason in 2012. Nobody's head rolled after that 8-8 debacle the Eagles produced last season, but things are much different in Philadelphia this time around.
And with an upcoming schedule that includes dates against the Falcons, Saints, Cowboys (twice), Redskins (twice) and Giants, the Eagles are going to need to clean up the turnover problem in a hurry if they have any hopes of playing in late January.
Vick was the toast of the town just two years ago when he stole the starting job from Kevin Kolb and guided Philadelphia to the postseason. But since that time, the quarterback has gone just 10-8 with 24 touchdown passes and 29 turnovers.
Hit me up on Twitter: @JoeFortenbaugh