March 11, 2013 -
Joe Fortenbaugh
Report: Vikings, Seahawks talking Harvin trade
It was just over two weeks ago that Vikings general manager Rick Spielman was at the NFL Combine telling everybody willing to listen that Minnesota had no intentions of trading disgruntled wide receiver Percy Harvin.
Apparently, Spielman's position has changed. That is, if we're willing to buy the notion that he wasn't selling us a load of you-know-what two weeks ago in an attempt to gain some leverage within the market.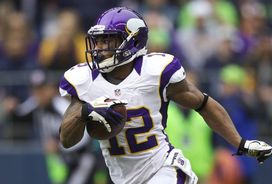 Is Percy Harvin headed for the Pacific Northwest?
ESPN's Adam Schefter reports that the Vikings are attempting to trade Percy Harvin and have been in talks with multiple teams. Schefter goes on to name the Seattle Seahawks as a suitor, tweeting that Pete Carroll's crew is currently the favorite to land the four-year veteran.
Seattle makes sense for a variety of reasons. The Seahawks would love to add another dynamic playmaker to the offense to further aid in the development of quarterback Russell Wilson. In addition, current Seahawks offensive coordinator Darrell Bevell knows Harvin well, having served as Minnesota's offensive coordinator in 2009 and 2010.
A motivated Harvin-to-Seattle deal would certainly add fuel to the growing fire of predictions that have the Seahawks headed for the Super Bowl next season. Currently listed at 8/1 over at the LVH here in Las Vegas, you could expect another wave of cash to come in backing Wilson and company following a successful trade for Harvin's services.
Update (1:06pm EST): Jay Glazer is reporting that the deal is complete, with Harvin heading to Seattle in exchange for multiple draft picks.
Hit me up on Twitter: @JoeFortenbaugh