July 27, 2011 -
Barry Dorey
Report: Weddle drawing lots of interest on open market
In a textbook example of how the laws of supply and demand work in this country, free agent safety Eric Weddle is currently drawing a lot of interest on the open market due in large part to the fact that there are few, if any, quality safeties available.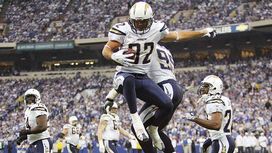 Multiple teams are in hot pursuit of Weddle.
Right place, we'd like you to meet right time.
According to Weddle's agent, David Canter, (via Scott Bair of the North County Times), seven teams are interested in acquiring Weddle, while four organizations—including Weddle's former team, the Chargers—are making a strong push.
Per Bair, the Jacksonville Jaguars are right in the thick of it as Jack Del Rio tries to revamp a defense that gave up 26.2 points per game last season (27th in NFL).
After four years, 45 starts and 350 tackles, re-signing Weddle has become one of the top priorities in San Diego this week. A second-round pick out of Utah in 2007, Weddle started all 16 games for the Bolts last season.
While he may not be one of the most recognizable names in the league, this is definitely a player worth tracking.
Will Weddle return to the Bolts? Discuss it now in the NFP Forums!
Hit me up on Twitter: @JoeFortenbaugh