August 02, 2011 -
Barry Dorey
Report: Zach Miller bails on Raiders, heads to Seattle
After seven consecutive losing seasons, the Oakland Raiders finally broke through in 2010 and posted an 8-8 record.

But after the news that broke Tuesday afternoon, you have to believe the Silver & Black are headed back to their losing ways.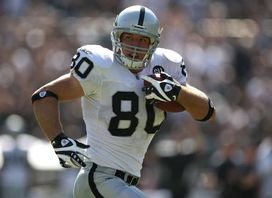 So long, Oakland. Miller has signed with Seattle.
That's because free agent tight end Zach Miller—who led the team in receptions in each of the last three seasons—has reached an agreement with the Seattle Seahawks, per John Clayton of ESPN.

This is a big loss for a Raiders team that appeared headed in the right direction for the first time in recent memory. Since 2008, the 25-year-old Miller has racked up 182 receptions for 2,268 yards and nine touchdowns. His departure will certainly be felt as the Oakland offense now has to rely on a relatively young and inexperienced group of receivers to spearhead an already questionable passing game.

As for the Seahawks, new quarterback Tarvaris Jackson has just landed another pass-catching weapon to make his transition back to NFL starting quarterback a bit easier.

In addition to Miller, the Seahawks acquired free agent wide receiver Sidney Rice last week.

Suddenly, Seattle looks like a team capable of successfully defending last season's division championship.
UPDATE: Adam Schefter of ESPN is reporting the deal is worth $34 million over five years.

Hit me up on Twitter: @JoeFortenbaugh