November 21, 2012 -
Joe Fortenbaugh
Return on investment
The NFL is a quarterback-driven league. This concept was never more palpable than during the 2012 offseason, when we couldn't go more than ten minutes as a society without a status update on one Peyton Williams Manning. The private throwing sessions and luxury jet flights from NFL city to NFL city became the media's bread and butter. We were all hooked.
Manning and his four neck surgeries (remember those?) eventually landed in Denver and as a result, the Broncos are now sitting pretty at 7-3 entering Thanksgiving weekend. Vegas has the AFC West leaders at 5-1 to win the Super Bowl, media members are set to hand Manning his fifth Most Valuable Player Award and the Denver faithful are already scouring Priceline for flights to New Orleans in February.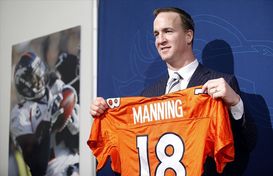 Manning dominated the headlines this past winter, but the Jackson signing in Tampa has made plenty of waves during the first eleven weeks of the season.
It's undeniable that Denver's acquisition of Manning will continue to be hailed as the league's best offseason transaction. But that doesn't mean it is without competition. Approximately one week before the Broncos gave their new quarterback a five-year deal worth close to $100 million, the Tampa Bay Buccaneers made a splash of their own.
And while this particular deal isn't drawing anywhere close to the accolades that have been bestowed upon the one that went down in Denver, that doesn't mean its impact is unworthy of recognition.
As part of an offseason spending spree that drew plenty of attention but not nearly as much praise, the Buccaneers shelled out a five-year, $55.55 million contract to wide receiver Vincent Jackson. Many criticized the move, as Jackson's off-the-field issues and contentious relationship with San Diego management raised plenty of red flags. Some called it a roll of the dice. If that's the case, it's a roll that has the Buccaneers collecting chips rather then heading back to the ATM machine.
While plenty of credit should be given to both first-year head coach Greg Schiano and rookie running back Doug Martin, the Jackson signing is the principal reason why the league's 29th-ranked defense is currently 6-4 and jockeying for a playoff spot in late November.
Disagree with that statement? Let's take a look at how Jackson's impact has been felt through just ten games.
TAMPA BAY'S OFFENSE
The 2011 campaign under former head coach Raheem Morris was a complete disaster that saw the Buccaneers offense go from scoring 21.3 points per game in 2010 to just 17.9 points per game the following year. But while Tampa Bay was floundering, Jackson and the San Diego Chargers were piling up the yardage as the league's sixth-ranked total offense last season.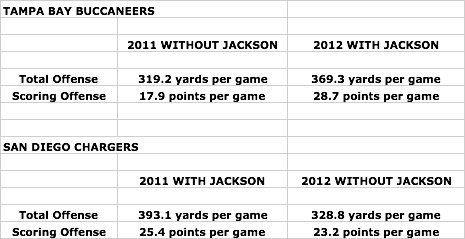 With Jackson on the field, the Buccaneers are averaging approximately 50 more yards and 11 more points per game this season, while the Chargers' production has decreased by close to 65 yards and two points per game since the wide receiver's departure. Tampa Bay is currently 6-4 while San Diego is 4-6. Both teams rank in the top-15 in scoring defense this season.
JOSH FREEMAN
After posting a QB rating of 95.9 while guiding the Buccaneers to a 10-6 record in 2010, Josh Freeman looked every bit the franchise quarterback Tampa Bay hoped they were getting when the team selected him with the 17th pick in the 2009 draft. But the former Kansas State standout stumbled in year three, throwing 22 interceptions en route to recording a QB rating of 74.6. The Buccaneers realized that the organization needed more firepower if their quarterback was going to succeed, so the team went out and signed Jackson.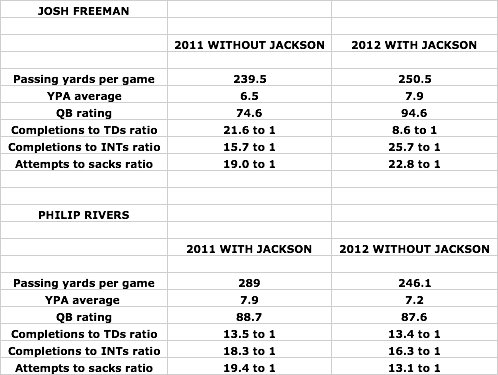 Not only have Freeman's numbers skyrocketed with Jackson on the field, but Philip Rivers is taking yet another step in the wrong direction with his former jump-ball deep-threat now lining up in Tampa. Take particular note of each quarterback's YPA average stats, as this particular category is a Vincent Jackson specialty.
MIKE WILLIAMS
Williams was a 2010 fourth-round selection out of Syracuse who drove into the NFL with a car trunk full of character concerns. But the wideout was able to silence his critics during a rookie campaign that included 11 touchdowns and 964 receiving yards on 65 receptions. And at the end of 2010 it looked as if the Bucs had their quarterback-receiver 1-2 punch. But Williams' numbers plummeted in year two, leading many to speculate that the 6-2, 212-pounder was nothing more than a one-hit wonder.

While his reception totals may be down, Williams has become a far more productive wide receiver with Jackson as his teammate. As the No. 2 in Tampa, the three-year veteran is benefitting from favorable coverage matchups and as a result, is doing more with less while leaving the heavy lifting to the high-priced Jackson. Two years ago it looked as if the Buccaneers had found their 1-2 punch in Freeman and Williams. Now it appears as if Tampa has a 1-2 punch in Jackson and Williams, with Freeman benefitting greatly from the additional firepower.
……….
Vincent Jackson will garner exactly zero recognition when it comes to handing out the 2012 MVP Award, and rightfully so. The MVP is a stats-heavy honor usually reserved for the premier player at the quarterback position.
That award will most likely be bestowed upon Peyton Manning this season. And from where I'm sitting, I'm betting the Tampa Bay Buccaneers have no problem with that. Denver signed Manning with the immediate intention of having the former Indianapolis Colt deliver the team's first Super Bowl since the John Elway-era. The Buccaneers signed Jackson because the team was looking to bring in a veteran playmaker to add to their stable of budding young talent.
Denver's immediate future may appear brighter, but Tampa Bay's time is coming. And during that upcoming window of opportunity, the Buccaneers front office will no doubt look back on March 2012 and smile at the $55.55 million the team shelled out for a wide receiver who made everybody around him better.
Hit me up on Twitter: @JoeFortenbaugh