August 01, 2011 -
Barry Dorey
Reunited: Jason Taylor returns to the Dolphins
Remember that scene in the movie Brokeback Mountain (don't lie, you've all seen it) where Jake Gyllenhaal tells Heath Ledger, "I wish I could quit you!"?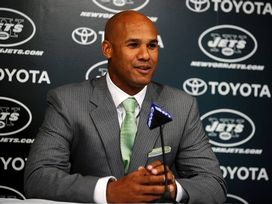 ICONAfter one season with the Jets, Taylor is back with the Dolphins.
That's the Miami Dolphins and Jason Taylor.
Already having played for the Fish on two separate occasions, Taylor is hoping the third time's the charm as he and the Dolphins reached an agreement on Monday to give it another run.
The move was announced on the facebook page for Taylor's foundation, so we're still not sure how many years the deal is for or how much Taylor will be making.
Also no word on whether or not a cowboy hat is included in the contract.
Hit me up on Twitter: @JoeFortenbaugh