March 11, 2014 -
Joe Fortenbaugh
Revis Watch: 2014
Three-time All-Pro cornerback Darrelle Revis won't return to the Tampa Bay Buccaneers in 2014, according to a report from ESPN that hit the wire Monday evening. Since the organization will owe the seven-year veteran a $1.5 million roster bonus if Revis is on the team come Wednesday at 4:01pm eastern, the Buccaneers have been active on the phones trying to swing a trade. But such a move will be no easy task to accomplish, as doing so would require Revis' new team to pick up a contract that will cost $16 million next season.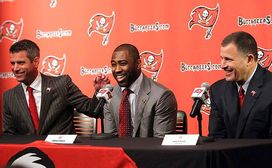 Revis lasted one year in Tampa Bay before the new regime decided he didn't fit their plans.
If Tampa Bay is unable to find a willing trade partner, Revis will be released and free to sign with any team he chooses. This situation stings a bit for the New York Jets, who traded Revis to Tampa Bay last offseason. In that deal, New York picked up Tampa's fourth-round draft pick in 2014, a selection that would have become a third-round draft choice had Revis been on the Tampa roster Wednesday at 4:01pm eastern.
With one of the game's elite cornerbacks there for the taking, reports have been surfacing left and right as to which team will land the five-time Pro Bowler. Here's where things currently stand:
New England Patriots and Philadelphia Eagles: In a recent tweet, ESPN's Adam Schefter named both the Eagles and Patriots as two teams to watch in the Revis sweepstakes. New England was reportedly close to re-signing cornerback Aqib Talib as of Monday evening, while Philadelphia currently has 2013 free agent acquisitions Cary Williams and Bradley Fletcher manning the two starting CB positions. A significant upgrade for either team, it would be interesting to see the Eagles make a move for Revis, given the disastrous outcome that followed the Nnamdi Asomugha signing.
Cleveland Browns: New head coach Mike Pettine was Revis' defensive coordinator in New York from 2009-2012 and will run a defensive system in Cleveland suited to the cornerback's skill set. Only the Oakland Raiders and Jacksonville Jaguars have more available cap space at the moment than the Browns. In addition, think of the possibilities of having Revis playing alongside fellow Pro Bowl cornerback Joe Haden? At the moment, Cleveland is rumored to be interested in acquiring Revis via trade.
Denver Broncos: Champ Bailey was released, Dominique Rodgers-Cromartie is headed for free agency and the Peyton Manning Super Bowl window continues to shrink. While some teams are looking 3-5 years into the future, the Broncos are looking to win right now. Denver could be willing to entertain a bidding war should Revis hit the open market via an outright release.
Update (1:42pm eastern): Add the Oakland Raiders and the league's largest salary cap cushion to the list.
Hit me up on Twitter: @JoeFortenbaugh