May 30, 2013 -
Joe Fortenbaugh
Revisiting the curse of the 10-win comeback season
The unpredictable nature of the National Football League manifests itself in a variety of different ways. Adrian Peterson comes back from a horrific December knee injury to fall just nine yards short of Eric Dickerson's single-season rushing record. Joe Flacco goes Joe Montana in the postseason and leads Baltimore to a Super Bowl. Double-digit underdogs like the Arizona Cardinals (+13) hit the road and bust up juggernauts like the New England Patriots. In reality, the only thing predictable about the NFL is that it has been and always will be unpredictable.
But that doesn't mean we should throw in the towel and stop trying to make some sense of it all. Last summer we took a look at an interesting trend that involved the unpredictable swings of teams that posted losing records one season and then came back the following year to record ten or more wins. You can take a look at the research by clicking here, or you can avoid burning the 1/8 of a calorie that comes from clicking your mouse by reading the following paragraph.
From 2002 to 2011 there were 29 instances in which a team posted a record of 7-9 or worse one season and came back the following year to record ten or more wins. And in 26 of those 29 instances (89.6%), the teams in question reverted from a 10-6 or better franchise to a 9-7 or worse franchise in year three.
Three teams fell under the umbrella of this trend in 2012: Detroit, Houston and San Francisco. The Lions regressed from a 10-6 playoff club in 2011 to a 4-12 doormat in 2012. However, the Texans and 49ers bucked the trend and posted winning seasons for the second consecutive year following a record of 7-9 or worse. That puts the poorly named "Curse of the 10-win comeback season" trend at 27 of a possible 32 regressions, which equals an 84.37% failure rate.
Four teams will enter the 2013 NFL season looking to buck this trend just like the Niners and Texans did a year ago. All may succeed or every last one of them could fail. It's just too early to tell and too unpredictable to predict.
Indianapolis Colts
2011 record: 2-14
2012 record: 11-5
2013 LVH season win total: 8.5 (Over: even, Under: -120)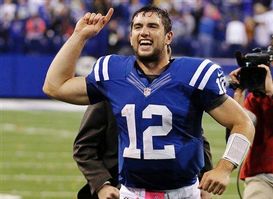 For Luck and the Colts to get back to the playoffs, the team will first need to address a few statistical concerns.
It took approximately one year for the Colts to transition from the worst football team in the NFL to an 11-win franchise that qualified for the postseason. Credit tidal waves of emotion and youth for the quick turnaround. But there's good reason to be skeptical of Andrew Luck and company as we approach September. Even though Indy managed to hit double digits in the win column last season, the team finished the 2012 campaign with a -12 turnover differential and -9 sack differential. And if that isn't enough to make you think twice about backing Indianapolis this year, take note that the Colts surrendered 30 more points than they scored in 2012. Teams cannot expect to consistently produce favorable results with glaring deficiencies in those three statistical categories.
Minnesota Vikings
2011 record: 3-13
2012 record: 10-6
2013 LVH season win total: 7.5 (Over: -110, Under: -110)
Minnesota's ten wins in 2012 came against opponents who combined to go 72-86-2 (.455) on the season, while the franchise's six losses came against teams who combined to post a 60-36 (.625) mark. And while the Vikings found a way to average a healthy 23.7 points per game last year (14th in NFL), you have to be concerned about: 1) The transition from playmaker Percy Harvin to the aging Greg Jennings and 2) The fact that this team can't bank on MVP Adrian Peterson rushing for another 2,000+ yards. If quarterback Christian Ponder can't improve on last season's 81.2 QB rating (which featured 17 turnovers), it's going to be real tough for the Vikings to post another 10-win campaign.
Seattle Seahawks
2011 record: 7-9
2012 record: 11-5
2013 LVH season win total: 10.5 (Over: -110, Under: -110)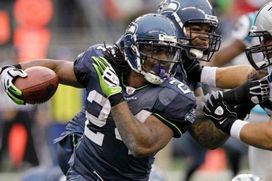 Marshawn Lynch and the Seahawks are already a trendy Super Bowl pick, but can Seattle avoid the curse?
Nobody from Seattle expects to read an article about the possibility of the city's beloved football team taking a step back in 2013, yet here we are. The Seahawks are in a vastly different situation this season then they were last. The expectations are sky high, the national spotlight is shining directly on the team's cozy little corner in the Pacific Northwest and the pressure to succeed will be more intense this fall then it's been in years. There's no denying the fact that the Seahawks possess a roster loaded with talent to go along with the league's most dominant home field advantage. But if Seattle is going to avoid a regression in 2013, the players will need to manage themselves a hell of a lot better during the regular season than they have so far this offseason.
Washington Redskins
2011 record: 5-11
2012 record: 10-6
2013 LVH season win total: 8 (Over: -110, Under: -110)
I count three reasons why the 'Skins could have trouble getting back to ten wins in 2013: 1) The ability of quarterback Robert Griffin III to not only get back on the field in time for the start of the season, but to remain there for the entire year, 2) The possibility of opposing defenses enjoying more success against Washington's read-option offense now that they've had a year to prepare for it and 3) A schedule that features six hard-hitting matchups with NFC East opposition along with tough showdowns against the 49ers, Falcons, Broncos, Bears and Chiefs. This is a good football team that's headed in the right direction, but it's also a team that will need to catch some breaks this year in order to get back to the postseason.
Hit me up on Twitter: @JoeFortenbaugh