February 27, 2012 -
Joe Fortenbaugh
RG3 lands cover of NCAA Football 13
An electrifying 2011 campaign that resulted in a Heisman Trophy win was just the start for former Baylor quarterback Robert Griffin III.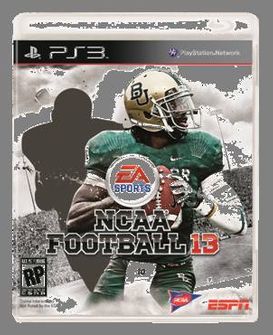 Projected by many as a top-five selection in April's NFL Draft, Griffin landed another honor on Monday as EA Sports announced that the dual-threat signal-caller will appear on the cover of the popular video game NCAA Football 13. The game is scheduled to arrive in stores on July 10.
RG3 will share the cover with one of eight former Heisman Trophy winners that will be determined by a fan vote on the NCAA Football Facebook page. The list of candidates includes Marcus Allen, Doug Flutie, Barry Sanders, Charlie Ward, Andre Ware, Eddie George, Desmond Howard and Herschel Walker.
Griffin became a household name after a captivating performance in a 34-21 upset win over Oklahoma on November 19 that included 551 total yards and four passing touchdowns. For the season, the 22-year-old threw for 4,293 yards and 37 scores while leading the Bears to a 10-3 record and 67-56 shootout win over the Washington Huskies in the Alamo Bowl.
Considered by many to be the best quarterback in this year's draft class after Stanford's Andrew Luck, Griffin will now turn his attention to Baylor's pro day on March 21.
Hit me up on Twitter: @JoeFortenbaugh