January 09, 2014 -
Joe Fortenbaugh
Ride the lightning
They said the quarterback was washed up and the defense was in need of a major overhaul. The offensive line was considered by some to be the worst in the National Football League, while the starting running back was headed for enshrinement as one of the biggest first-round busts of the last decade. The receivers were either inexperienced or inconsistent, the pass rushers ineffective, the special teams far from special. This was a franchise located in an attractive part of the country with talent that was anything but.
The expectations had reached their lowest point in years. This was a rebuilding project that would take time and require patience. The playoffs—a feat which hadn't been achieved in any of the previous three seasons despite the predictions of many that such an goal would be reached—was something that was possibly worth pondering somewhere down the road.
This roster wasn't capable of qualifying for the postseason, they said.
Yet, here stands first-year head coach Mike McCoy and the San Diego Chargers, winners of five straight and, once again, assuming the role of underdog for Sunday's Divisional Round matchup at Denver.
The quarterback, 32-year-old Philip Rivers, is in the midst of a renaissance that has seen the ten-year veteran transform a two-year freefall (35 interceptions and 79 sacks absorbed over 32 starts) into a passer rating of 105.5 (highest since 2008) and a trip to Hawaii for the Pro Bowl. Some predicted Rivers would be cut loose to free up salary cap space following one season in McCoy's system, but the North Carolina State product wound up finishing the 2013 campaign ranked first in the NFL in completion percentage (69.5 percent), fifth in passing yards (4,478), fourth in touchdown tosses (32) and fourth in passer rating (105.5).
The defense, a unit that, at times, appeared semi-respectable in 2012, needed exactly 11 games under defensive coordinator John Pagano before kicking it into high gear for an improbable playoff run. Through the first 11 games of the season, San Diego surrendered a staggering 29.5 points per game en route to a 5-6 record. But after the calendar flipped to December, this unit bolted down the hatches and permitted an average of just 16.3 points per outing while going 5-1, a record that includes last Sunday's 27-10 wild card upset win at Cincinnati, a team that had not lost a single game at home during the regular season.
The offensive line, an unreliable and suspect bunch that had surrendered 79 sacks over the previous two seasons (12th-most in NFL), allowed Rivers to hit the deck just 30 times over 16 starts this year, 19 fewer than had been given up in 2012. And that's despite the loss of offensive guard Louis Vasquez, who signed with division-rival Denver this past winter before earning All-Pro honors protecting future Hall of Famer Peyton Manning.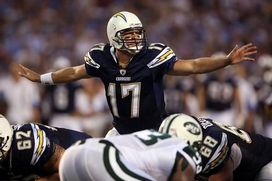 Considered past his prime, Rivers has been one of the league's top quarterbacks this season.
The running back, former Fresno State standout Ryan Mathews (whom the Chargers acquired in the 2010 draft after trading up to the 12th pick from the 28th selection), just completed the first full 16-game regular season of his four-year NFL run, which featured career-highs in rushing yards (1,255, seventh in NFL) and attempts (285, fourth in NFL). During San Diego's four-game winning streak to close out the regular season, Mathews found the end zone three times while averaging 118.25 rushing yards per game.
The receiving unit, which dumped Norv Turner acquisition Robert Meachem (costing the team $6.875 million in dead money against the 2013 salary cap) and lost their top receiver in Malcom Floyd to injury just two games into the regular season, struck gold in rookie third-round pick Keenan Allen, who ranked 22nd in the NFL in receiving yards (1,046) and 16th in touchdowns (8). The 21-year-old out of California hit pay dirt five times during San Diego's season-ending four-game winning streak.
They said a lot of things about the San Diego Chargers prior to the start of the 2013 regular season. They also said the Bolts didn't stand a chance when visiting Super Bowl favorite Denver on a Thursday night in mid-December.
In what should be regarded as one of the finest displays of coaching to take place during the 2013 NFL campaign, Mike McCoy's Chargers systematically dismantled a Broncos team that had won 13 consecutive home games prior to San Diego's visit. The Chargers controlled the clock for an astonishing 38:49, converted 50 percent of their third down opportunities and limited quarterback Peyton Manning to his second-lowest passer rating of the year. The league's top offense by a mile this season, Denver was held to under 400 total yards in their 27-20 defeat to San Diego in Week 15 for just the second time all year.
The other instance? Well, that came back on November 10 when the Broncos registered 397 yards against, you guessed it, the San Diego Chargers.
They say that Mike McCoy won't win NFL Coach of the Year honors, not when competing in a race that includes Carolina's Ron Rivera, Kansas City's Andy Reid and Arizona's Bruce Arians. Deserving candidates in their own right, Arians fell short of an impressive playoff bid, Reid's Chiefs blew a 28-point lead at Indianapolis last Sunday and Rivera's campaign will likely be second-guessed if his 12-win Panthers fall at home to San Francisco on Sunday coming off a bye week.
They say that the 10-point underdog San Diego Chargers won't win in Denver this Sunday. Not against a rested, record-setting Peyton Manning who seems destined for a third trip to the Super Bowl. What they say at this point has become old hat for these Chargers because they've heard it all before.
The key, however, is that they've chosen not to listen.
Hit me up on Twitter: @JoeFortenbaugh