April 30, 2011 -
Joe Fortenbaugh
Roddy White tells Julio Jones, "I like cheeseburgers on Wednesday"
After trading five picks to the Cleveland Browns—including a first round selection in 2012—for the right to move up and draft Julio Jones, you can bet the Atlanta fan base will be expecting big things from the former Alabama wide receiver.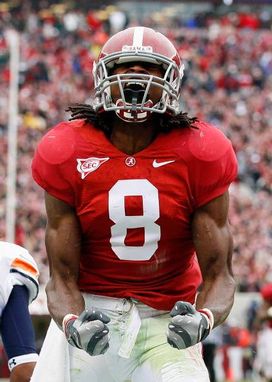 Julio Jones will be expected to score touchdowns and deliver cheeseburgers.
Roddy White, on the other hand, is expecting donuts and cheeseburgers.
In a video recently made by Atlanta's Pro Bowl wide receiver, White welcomes Julio Jones to the Falcons and discusses how explosive the offense should be now that another talented wideout has been added to the roster.
He also tells Jones, "I like donuts and stuff on Friday. I like cheeseburgers on Wednesday."
Sleep easy, football fans. The lockout will apparently have no effect on rookie hazing.
Welcome to Atlanta, Julio.
Hit me up on Twitter: @JoeFortenbaugh