July 26, 2011 -
Barry Dorey
Roy Williams is finished in Big D
After roughly three years in Dallas, the Cowboys have seen enough.
According to Calvin Watkins of ESPN Dallas (via a tweet from ESPN's Adam Schefter), the Cowboys have informed veteran wide receiver Roy Williams that he will be released.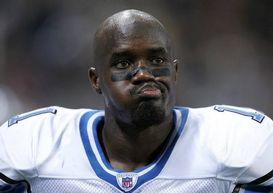 Roy Williams is back on the market.
The news marks the end of a disappointing two and a half-year tenure in Dallas in which Williams recorded only 94 receptions in 40 career games.
The move to acquire the former Texas standout could go down as one of the worst trades in NFL history. Back in October of 2008, the Cowboys sent the Detroit Lions four draft picks (including a first rounder) for Williams and then signed him to a five-year extension worth $45 million.
Based on guaranteed money alone ($20 million), Jerry Jones paid the seven-year veteran $1.54 million per touchdown during his time with the Cowboys.
At least the Miles Austin extension has worked out so far.
Would you classify Roy Williams as a bust? Discuss it now in the NFP Forums!
Hit me up on Twitter: @JoeFortenbaugh