July 29, 2011 -
Barry Dorey
Roy Williams lands in Chicago
By all accounts, Roy Williams was an utter disappointment during his two plus years in Dallas. In exchange for four draft picks, the Cowboys got back just 94 receptions in 40 games.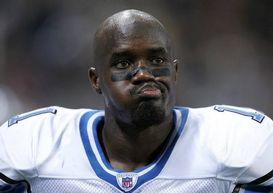 Roy Williams will be reunited in Chicago with former offensive coordinator Mike Martz.
But if you go back through the stat sheets just a bit further, you'll notice that Williams hasn't always been an underperforming wide receiver. During a two-year stretch that began in 2006, the former Texas standout caught 146 passes for 2,148 yards and 12 touchdowns and even went so far as to earn himself a spot in the Pro Bowl.
His offensive coordinator during that stretch: Mike Martz.
The offensive coordinator on the team that signed Williams Friday morning: Mike Martz.
Adam Schefter is reporting that Williams and the Chicago Bears have come to an agreement on a contract. The details of said contract have yet to be released.
For Williams, it's a shot at redemption. As for the Bears, the very real possibility exists that the team finally landed a legitimate No. 1 wideout.
Hit me up on Twitter: @JoeFortenbaugh