January 05, 2014 -
Joe Fortenbaugh
Saints head to Seattle as big dogs for Divisional Round
It was just five weeks ago that the New Orleans Saints traveled to Seattle for a Monday night showdown with the Seahawks that saw Drew Brees and company endure a throttling to the tune of a 34-7 beat-down. That loss, coupled with subsequent defeats at both St. Louis and Carolina, paved the way for a refrain insisting that this Saints team—while good—was incapable of playing well away from the confines of the Superdome.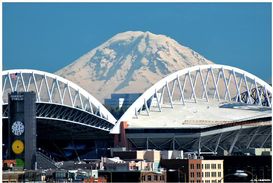 CenturyLink Field has been a house of horrors for visiting teams over the last two seasons.
The Saints took a step toward erasing that stigma on Saturday night with a hard-fought 26-24 win at Philadelphia, the first playoff road victory in franchise history as well as the first road win of any kind since November. Survive and advance may be the mantra, but that doesn't mean New Orleans has turned a corner in the eyes of Vegas bookmakers as it pertains to their travel abilities.
Shortly following Saturday night's win in Philadelphia, the Saints hit the board at the LVH sports book in Las Vegas as a 7.5-point underdog for next weekend's rematch at Seattle. That number didn't last long, as early action forced a move to Seattle -8.5, which is where the line sits presently.
When the Saints traveled to Seattle on December 2, the point spread closed Seattle -6.5.
The LVH updated their Super Bowl odds in the wake of Saturday's action as well, with the Saints moving from 25/1 to 14/1 following their win at Philadelphia and the Colts shifting from 25/1 to 20/1 in the aftermath of their historic come-from-behind victory over Kansas City.
If bettors truly feel this Saints team has a better shot at covering the number during their second trip to Seattle, it looks like the buy point will have to be more than a touchdown with the hook.
Hit me up on Twitter: @JoeFortenbaugh