March 14, 2012 -
Joe Fortenbaugh
San Diego makes a splash
The San Diego Chargers didn't waste any time in their efforts to replace wide receiver Vincent Jackson.
Quarterback Philip Rivers already has a new weapon at his disposal, and his name is Robert Meachem.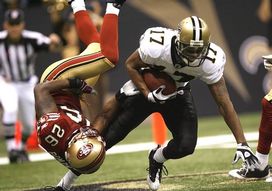 In San Diego, Meachem now has a chance to become a true No. 1 wideout.
The San Diego Chargers announced early Wednesday morning that the team has come to terms with the former New Orleans Saint on a four-year deal worth $25.9 million with $14 million guaranteed.
Meachem—a former first-round selection out of Tennessee—struggled to produce the big-time numbers expected of a top-32 draft choice. In four seasons with the Saints, the 27-year-old never recorded more than 45 receptions in a season.
However, with all of the weapons that were at quarterback Drew Brees' disposal, it's tough to target the same guy 120+ times. Many experts feel that Meachem could actually perform better outside of the Saints' system than former teammate Marques Colston, JoeFortenbaugh