June 06, 2013 -
Joe Fortenbaugh
Seahawks not interested in Hard Knocks
A 7-1 record to close out the regular season spearheaded by the emergence of rookie third-round selection Russell Wilson made the Seattle Seahawks one of the NFL's most captivating stories in 2012. And while the recent rise in popularity of the league's Pacific Northwest franchise makes the Seahawks an ideal fit for HBO's reality sports documentary Hard Knocks, the cable television network will have to look elsewhere for a team to follow in 2013.
"We understand the interest in this show, but would not want to bring a ton of attention to ourselves," Seahawks general manager John Schneider told the National Football Post on Thursday.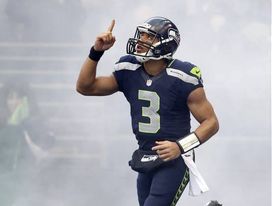 Russell Wilson and company are out of the running for Hard Knocks in 2013.
Seattle's stance on the matter is hardly a novel one, given that several NFL teams—the Seahawks included—balked at the chance to appear on Hard Knocks in 2012.
In addition to the Seahawks, Chargers general manager Tom Telesco told XTRA Sports 1360 in San Diego that while the team has an interest in appearing on the popular program, it's unlikely the Bolts would accept an invitation in 2013.
"As far as would we do it? We'll see. I don't foresee that this year. It's gonna be a whole new training camp, with a new front office, new coaching staff. It's something we may think about, but I don't think it's gonna happen this year," Telesco told XTRA Sports 1360 during an interview in late April.
The eighth edition of Hard Knocks is scheduled to premiere sometime in early August, assuming HBO can find at least one team willing to accept the distractions that prevent so many others from appearing on the program.
Hit me up on Twitter: @JoeFortenbaugh