July 26, 2011 -
Barry Dorey
Seahawks still in the hunt for Kevin Kolb
While the Arizona Cardinals remain the frontrunners, the Seattle Seahawks could be making a move to land the services of Kevin Kolb.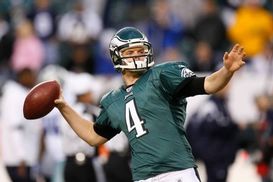 ICONWhere will Kevin Kolb be playing football next season?
Per Jeff McLane of the Philadelphia Inquirer, a league source informed him not to sleep on a Seattle organization that reportedly offered up a first-round pick for Kolb last offseason.
As of 10:00am Tuesday morning, the Eagles were free to trade Kolb, but have yet to pull the trigger after a hectic morning of signing undrafted free agents.
Seattle's interest in Kolb doesn't exactly come as a shock. Veteran signal-caller Matt Hasselbeck is reportedly set to leave the team while head coach Pete Carroll is apparently trying to set an NFL record for most quarterbacks acquired in a two-year period.
The Seahawks sent two draft picks to the San Diego Chargers in March of 2010 for quarterback Charlie Whitehurst, who went on to start only two games for Seattle last season.
This has been a fun story to track. Stay tuned.
Is Kevin Kolb headed to Seattle or Arizona? Weigh in now in the NFP Forums!
Hit me up on Twitter: @JoeFortenbaugh