March 18, 2012 -
Joe Fortenbaugh
Seahawks win the Matt Flynn sweepstakes
In the market for a new quarterback and aware that the Miami Dolphins were looking to make a move, the Seattle Seahawks decided to strike first.
Adam Schefter of ESPN is reporting that free agent quarterback Matt Flynn has reached an agreement with the Seahawks on a three-year deal worth up to $26 million, with $10 million guaranteed.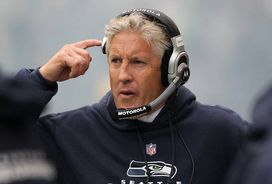 Matt Flynn now becomes the fourth quarterback to start for the Seahawks since Pete Carroll took over in 2010.
Give credit to the Seattle front office for pulling the trigger and getting Flynn under contract. The Seahawks never got an opportunity to meet with free agent quarterback Peyton Manning and knowing that Flynn was a hot commodity in the eyes of the Miami Dolphins as well as some other teams around the league, Seattle got aggressive and did what they needed to do to land the franchise's next signal-caller.
A four-year veteran out of LSU, Flynn parlayed a huge performance against the Detroit Lions in Week 17 into a big-time payday. Under center in place of starter Aaron Rodgers—whom the Packers were resting in preparation for the playoffs—Flynn completed 31 of 44 passes for a franchise-record 480 yards and six touchdowns while leading the Packers to a 45-41 victory.
With Flynn off the market and the Manning sweepstakes down to the Titans, Broncos and 49ers, the Miami Dolphins will now have to turn to Plan C, which could include signing free agent quarterback Alex Smith.
As for Seattle, the 26-year-old Flynn will become the fourth quarterback to start a game for the Seahawks since Pete Carroll took over as head coach in 2010. After experimenting with Charlie Whitehurst and Tarvaris Jackson, the Seahawks are no doubt hoping that the organization has finally found their starting quarterback of the future.
Hit me up on Twitter: @JoeFortenbaugh