August 27, 2012 -
Joe Fortenbaugh
Season win total predictions
With nine days remaining until the start of the regular season, you're about to be inundated with NFL predictions from the vast sea of individuals who cover this sport for a living. We'll be rolling out our divisional, championship and Super Bowl predictions next week, but today the focus is on Las Vegas and NFL season win totals.
Our good friend Warren Sharp from Sharp Football Analysis.com was in town this past weekend for the SuperContest seminar at LVH, which gave us some time to compare notes and discuss our favorite win totals for the coming season. What you'll find below are picks that either I like, Warren likes or that we both like.
But before we get down to business, Warren is running a twitter contest in which one of you will win a 2012 season package at Sharp Football Analysis.com that will give you access to all of Warren's plays absolutely free. The rules are listed at the end of this article, so be sure to check 'em out.
BUFFALO BILLS OVER
Line: 7.5 (-220 at LVH) or 8.0 (-150) at the Greek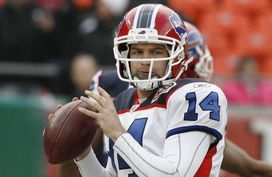 With a very favorable schedule at their disposal, now is the time for Ryan Fitzpatrick and the Buffalo Bills to deliver.
Fortenbaugh: The upside in waiting this long to bet an over is that we won't be pot committed to a team that winds up losing an integral player to injury during the preseason. The downside is that we aren't coming anywhere close to getting the best of the number. The Bills haven't won eight games in a season since 2004, but have a 2012 schedule that features 11 games against opponents who finished 8-8 or worse last season (Jets twice, Dolphins twice, Browns, Colts, Jaguars, Rams, Seahawks, Cardinals, Chiefs). An upgraded defense (Mario Williams, Stephon Gilmore) coupled with a bounce-back year from quarterback Ryan Fitzpatrick should be enough to make this a profitable investment.
Sharp: I have a 17-0 trend favoring the Bills that shows the teams who qualified for the study will improve the following season by an average of +4 games. That would move Buffalo from their six wins in 2011 to ten wins in 2012. They face the AFC South, NFC West and Kansas City and Cleveland in their non-divisional matchups, giving the Bills the second-easiest non-divisional schedule by my personal rankings.
CINCINNATI BENGALS UNDER
Line: 8.0 (-135 at LVH) or 8.5 (-210) at Pinnacle
Fortenbaugh: Marvin Lewis has posted just two winning seasons since taking over as the head coach in Cincinnati (2005, 2009), but followed both of those successful campaigns with steps in the wrong direction (8-8 in 2006, 4-12 in 2010). I love the Andy Dalton-A.J. Green connection, but check out the Bengals' schedule over the final ten games of the season:
vs. Pittsburgh, vs. Denver, vs. NY Giants, at Kansas City, vs. Oakland, at San Diego, vs. Dallas, at Philadelphia, at Pittsburgh, vs. Baltimore
Brutal.
Sharp: In 2011, the Bengals were able to face the perfect non-divisional schedule: The NFC West and the AFC South. Two thirds of their wins (six of nine total) came against these two divisions. In their other eight games, Cincinnati went just 3-5. There have been 17 instances since 2004 in which an AFC team posted an overall winning record in the year in which they crossed over against the NFC West. In 15 of those 17 instances, the team posted a worse record the following year, losing three more games on average. The Bengals went 9-7 in 2011 vs. that schedule. It's hard to see them recording nine or more wins this year.
MIAMI DOLPHINS UNDER
Line: 7.0 (-155 at CRIS) or 7.5 (-220) at the Greek
Fortenbaugh: Starting a rookie quarterback in Ryan Tannehill is one thing, but who the hell is going to catch the football? This Miami offense is going to be one of the least explosive units in the NFL this season, which is why you should also be laying the points with the Texans in Week 1. Best of luck to new head coach Joe Philbin. He's going to need it.
Bonus: Teddy Covers emphasized this play repeatedly at the LVH SuperContest seminar last Friday night.
ARIZONA CARDINALS UNDER
Line: 7.0 (-160) at the Greek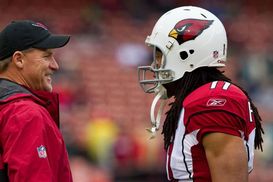 Ken Whisenhunt and Larry Fitzgerald are staring down the barrel of what could be a very poor season.
Sharp: All eight of Arizona's 2011 wins came by fewer than seven points, the most in the NFL last season. Factoring in those numbers, teams in Arizona's position lose an average of 2+ more games the following season. In addition, the Cardinals won four overtime matchups last season. Since 1995, teams with 3+ overtime wins and at least seven total wins on the season have lost an average of 3.4 more games the following year. And don't forget that the Cardinals play the third-toughest schedule by my numbers (NFC North, AFC East, Atlanta, Philadelphia), their quarterback situation looks far less than desirable and most other NFC West teams are improved.
SAN FRANCISCO 49ERS UNDER
Line: 10.0 (-115) at the Greek
Fortenbaugh: Road trips to Green Bay, New Orleans and New England figure to be a big help in winning this bet. But the real reason we're not buying the Niners in 2012 is because they kept popping up on the wrong side of the research we put together this summer. From the turnover differential study</a> to the curse of the 10-win comeback season, San Francisco has a lot of history working against their cause in 2012. And don't forget the fact that bookmakers have been adjusting this total south since the opening lines came out a couple of months ago. Once posted as high as 10.5 at some shops, LVH now has the 49ers as low as 9.5.
INDIANAPOLIS COLTS OVER
Line: 5.5 (+105) at BetOnline
Sharp: The Colts won two games in 2011 and were outscored by just under 12 pts/gm. Since 2000, 40 NFL teams won four or fewer games while being outscored by an average of one touchdown per game or more. Of those 40 teams, 38 (95%) won more games the following season. In fact, those 38 teams won an average of +4 more games the following season and since 2005, it's even stronger at +4.4 more games. Despite the terrible record, the Colts lost seven games last year by one score or less. In those seven games, Indianapolis was either leading or tied at the end of the third quarter in three of those contests and down by just two points in another. Those four close losses plus the team's two wins give you six games Indy "could have had" last season. Also, the Colts face five first or second-year quarterbacks at home this season and play in Houston Week 17 at home in a game where the Texans may play backups, like they did in 2011.
SEATTLE SEAHAWKS UNDER
Line: 7.5 (+115) at LVH
Fortenbaugh: Time to put my money where my mouth is. I've got not hing against Russell Wilson as a person. He's dedicated, hard-working and intelligent. But I believe he's a vastly overrated quarterback and I think the twitter universe is putting way too much emphasis on what he's done in meaningless preseason games. Wilson isn't a fourth quarter closer (Oregon & Ohio State games in 2011, Virginia Tech game in 2010) and is going to struggle once the games start counting. I'm going to sit tight for a few days to see if the hype forces oddsmakers to adjust north before I lock this one in, but rest assured, I'm making this play.
Follow Warren on Twitter: @SharpFootball
Hit me up on Twitter: @JoeFortenbaugh
1. Follow @JoeFortenbaugh and @SharpFootball on Twitter.
2. Purchase any Sharp Football Analysis package for 2012.
3. Write any tweet you wish, but entries will only be valid if they contain the following: #GetSharpWithJoe @SharpFootball
4. For every tweet correctly containing the above language, you will receive one (1) entry into the contest.
5. There is no limit to the number of entries you may submit.
6. Drawings will be made at random on the evening of Monday, September 3rd.
7. One winner will be selected and will receive a 100% refund of their purchase, getting their 2012 package ABSOLUTELY FREE.
8. Last date to enter is 9/3/12