April 01, 2013 -
Joe Fortenbaugh
Seattle could be the next landing spot for Matt Leinart
<p> Sorry to disappoint, but this is not an April Fools' Day prank. There really is a team interested in the services of quarterback Matt Leinart.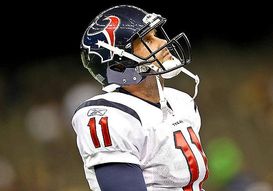 Leinart has started just 18 games during his six-year career.
Adam Schefter of ESPN reports that once the trade that will send Seahawks quarterback Matt Flynn to Oakland is completed, Seattle will consider signing former Heisman Trophy winner Matt Leinart to serve as the organization's backup quarterback. Schefter goes on to state that former Buffalo Bills signal-caller Tyler Thigpen is also an option to fill the void left by Flynn's departure.
Scheduled to turn 30-years-old in May, Leinart has made just one NFL start over the last three seasons, which puts the former top-ten draft pick's career total at just 18 through six professional campaigns. Four uninspiring years in Arizona led to one-year stints in Houston (2011) and Oakland (2012), where Leinart attempted a grand total of just 46 passes.
While a roster spot in Seattle would mean standing on the sidelines watching as Russell Wilson does his thing, playing for the Seahawks would give Leinart the chance to reunite with Pete Carroll, who coached the quarterback at Southern California from 2003-2005. Nobody is more familiar with Leinart's upside than Carroll.
The only problem is that it's been a long time since we've seen it.
Hit me up on Twitter: @JoeFortenbaugh